Evo SP8
The Evo SP8 is the preamp that sets the input gain for you. No more juggling gain knobs for 15 to 30 minutes when it's time to record your band. Just use Smartgain, and the input gain will be set for you in about 20 seconds across all 8 inputs.
But it gets even better when you use the Evo SP8 with the Evo 16!
When you connect the Evo 16 and SP8 together, you now have an Evo Expanded System – which is just a fancy way of saying the Evo 16 and SP8 integrate together seamlessly.
And that means you can control the preamps of the SP8 from the Evo 16 on-screen mixer, turn ON/OFF Phantom Power, and set Instrument Level, just like you can for the inputs of the Evo 16.
You can also use Smartgain across both units with just a couple button clicks. So if you need the gain set for 16 microphones – the Evo 16 + SP8 can do it in about 20 seconds.
Still not enough I/O? No problem.
Connect TWO Evo SP8's to your Evo 16 and set the input gain across all 24 channels in about 20 seconds.
Plus, if you already know how to use the Evo 16, then you will instantly know how to use the Evo SP8. Doing things like manually setting input gain, muting inputs, channel linking, Phantom Power, etc… is exactly the same.
But it's NOT just the Evo 16!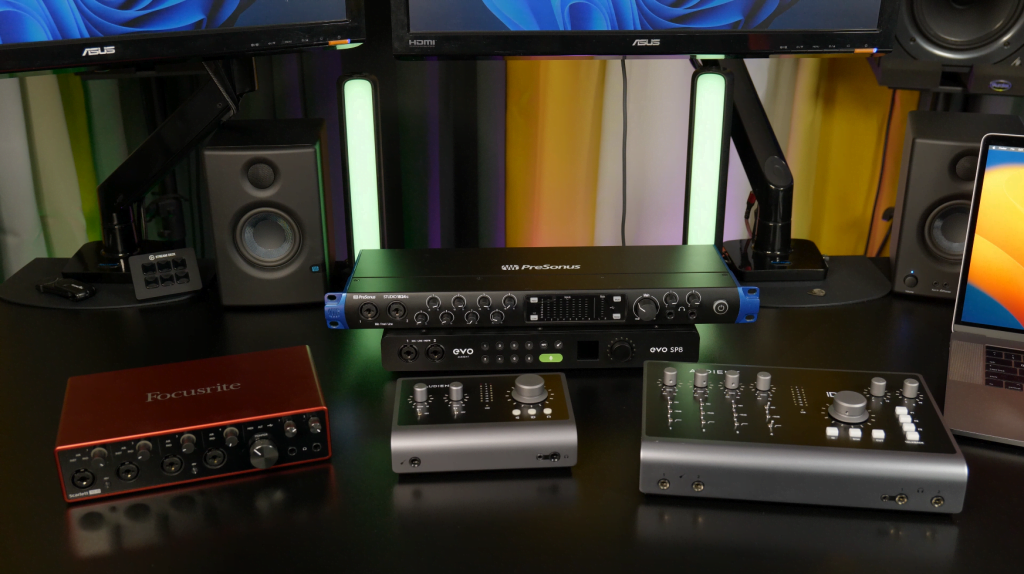 You can use the Evo SP8 with any ADAT capable audio interface. So if you already love your Focusrite Scarlett, or your PreSonus 1824c, or your Audient iD44 MKII – you can add an SP8 to your system, which will give you 8 more inputs, 8 more outputs, and Smartgain for the inputs on the SP8…ALL without giving up the audio interface you already like.
SPECS
32-bit AD/DA converters
8 channels at 44.1-96kHZ
58dB gain range (-8 to +50)
2 switchable Instrument Level inputs
8 Mic | Line inputs total
8 Line Outputs
Mic Preamp Frequency Response: 10Hz – 40kHz
Wordclock input
48v Phantom Power per channel
Stereo Linking
Input Muting
Full color screen
Can be rack mounted
In the video below we'll go over everything you need to know to get up and running with the Evo SP8.
VIDEO
Check it out more at the Evo website
Purchase the Evo SP8
About Post Author