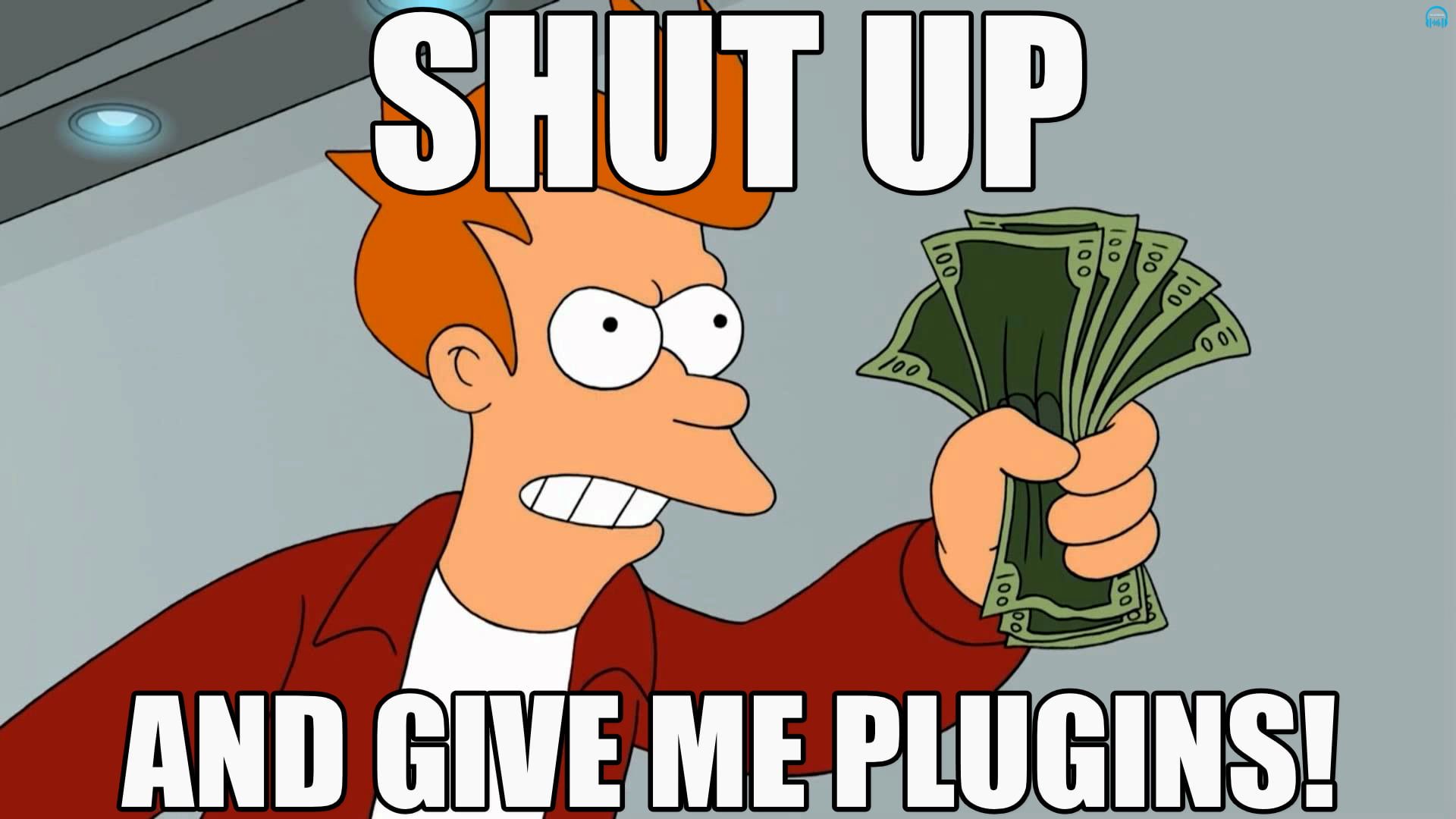 MEGA PLUGIN DEALS!
Plugin deals/sales are usually very time-limited, so if you see something you want, be sure to buy it before the sale is over!
WAVES
Waves is a heavy-hitter in the plugin world, they need no introduction. If you work with audio, you know who they are.
After checking out the top deals, come back to this page and use this link to save an EXTRA 10% on all Waves Plugins when you spend $50 or more
---
NATIVE INSTRUMENTS
Native Instruments is a heavy hitter in the virtual instrument world. Their products include the industry standard KONTAKT, MASSIVE, FM8, MASCHINE, ABSYNTH, GUITAR RIG, and many more.
Buy their products individually, or in a KOMPLETE Bundle and save big.
---
KOMPLETE NOW SUBSCRIPTION –
$9.99/MONTH
Native Instruments KOMPLETE NOW is a new subscription option for KOMPLETE. Subscribe for $9.99/Month or $99.00/Year with no strings, cancel any time. Before subscribing, you can try it free for a full 30-days 👍
---
50% OFF KONTAKT 6
For a limited time save 50% off the industry-standard sampler – Native Instruments KONTAKT 6 🔥
KONTAKT is a MUST-HAVE instrument for every musician and producer pick it up now for 50% off, or get it as part of KOMPLETE 13.
---
GUITAR RIG 6 PRO 50% OFF SALE
GUITAR RIG 6 PRO is a multi-effects rack and amp simulator made for creating and experimenting with audio in a way that is fast and direct. Think of it as your own studio, only with more space, less heavy amp heads, and way more flexibility. Design unique processing chains to customize your tones, adding space, warmth and character to everything from guitar and bass, to strings, drums, synths and more.
---
50% OFF KOMPLETE 13 UPDATES & UPGRADES
HUGE! Save 50% on KOMPLETE 13, KOMPLETE 13 Ultimate, and KOMPLETE 13 Ultimate Collector's Edition until June 30 🔥 Don't miss out on this great deal to add tons of virtual instruments to your collection. Get it ALL in one bundle for HALF-OFF for a limited time!
Or get select instruments for 50% off 🔥
---
PLUGIN BOUTIQUE
Plugin Boutique is a trusted online plugin warehouse. They host some crazy deals on plugins and instruments every month, and we bring the BEST to you here.
---
iZotope Music Production Suite 5 – Universal Edition Sale
iZOTOPE MPS 5 – Universal Edition Sale
iZotope's Music Production Suite 5 Universal Edition includes the new Neutron 4 mixing suite, immersive reverb in Stratus 3D & Symphony 3D by Exponential Audio, and six new effects plugins from Brainworx!
---
iZOTOPE Elements Suite – $20
The iZotope Elements Suite combines 4 powerful, award-winning audio technologies in one package: RX Elements, Neutron Elements, Nectar Elements, and Ozone Elements. Buy now for only £20 / $20 in our exclusive sale.
---
BABY AUDIO Crystalline Sale – $49
Crystalline stands on the shoulders of 60 years of chasing 'the holy grail of DSP'. This is what the pioneers of legendary digital reverbs would have done if they had the resources we have today. Buy the state-of-the-art Crystalline reverb with 50% off for a limited time only.
---
dSONIQ Realphones Sale
dSONIQ Realphones re-creates the acoustic environment of a recording studio control room in your headphones and corrects their frequency response so you can achieve the perfect mix. Save up to 54% off all dSONIQ products at Plugin Boutique.
---
SCALER 2 – $59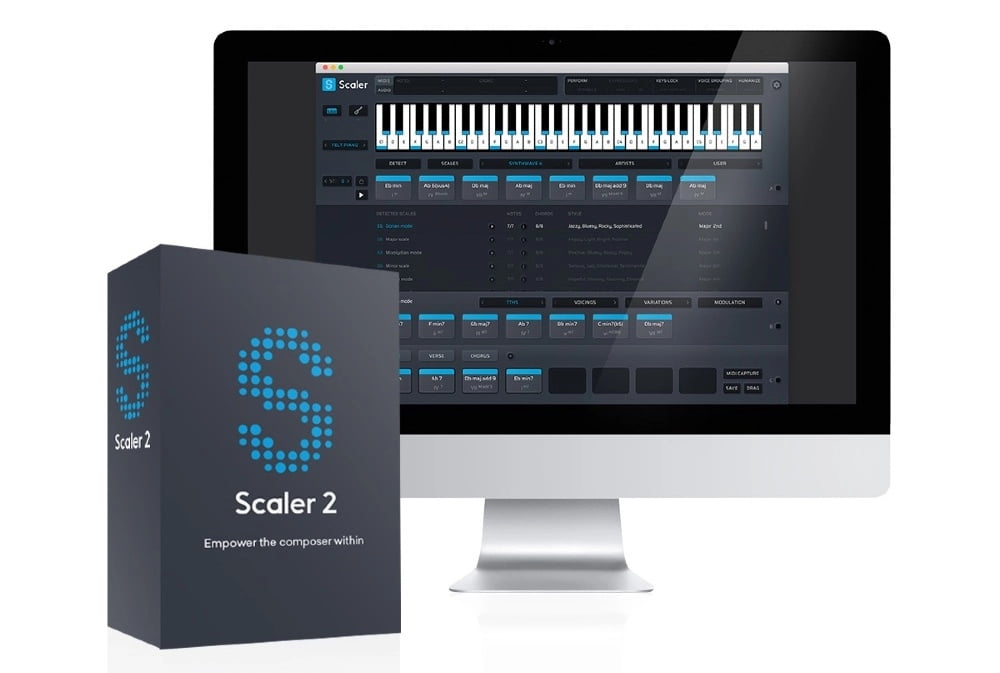 $59.00
Scaler 2 is one of the most useful MIDI tools for your DAW.
Scaler 2 works for anyone, even if you know nothing about music theory.
Quickly and easily create compositions, melodies, leads and more.
Play chords with one key!
This is a plugin that is a MUST HAVE for anyone who works with MIDI.
---
iZotope RX 9 Sale (Exclusive)
RX 9 is the award-winning audio repair suite trusted by top post-production engineers on countless movies and TV shows to quickly and reliably restore damaged, noisy audio to pristine condition. Get on the RX ladder for as little as £10 / $10 for a limited time only. Sale includes RX 9 Standard crossgrade from any iZotope product!
---
SOUNDWIDE Intro Bundle – $49.99
Soundwide Intro Bundle – $49.99
Elevate your sound with 15 powerful plug-ins for one great price. With products from Native Instruments, iZotope and Brainworx, this bundle has something for everyone. Buy now with an amazing 98% off for a limited time only! MSRP $2500!
Bundles includes:
iZotope RX Elements
iZotope Ozone Elements
iZotope Neutron Elements
iZotope Nectar Elements
iZotope Trash 2
iZotope VocalSynth 2
iZotope R4 by Exponential Audio
iZotope NIMBUS by Exponential Audio
Native Instruments MASSIVE
Brainworx bx_digital V3
Brainworx bx_subsynth
Brainworx bx_console N
Brainworx bx_stereomaker
Brainworx bx_delay 2500
Native Instruments GUITAR RIG 6 LE
---
Softube Summer Sale
This Summer enjoy massive savings on essential Softube products such as Tape, Parallels and more! Prices from €10 / $10, sale includes Plugin Boutique exclusives!
---
LOOPMASTERS/LOOPCLOUD
If you need loops, samples, or MIDI, Loopmasters is one of the most trusted places to buy from.
Loopcloud is a subscription service that includes a sample browser. Subscribe and download just the samples you want for your project.
---
Best Service
Best Service has a huge library of plugins and virtual instruments at unbeatable prices. Earn Best Coin with your purchases to redeem for a discount on your next purchase.
---
BFD Sale: Up to 50% Off Expansions
BFD Sale: Up to 50% Off Expansions
Save up to 50% on selected expansions for BFD3 until June 14th! Prices from $19.90 🔥
---
HEAVYOCITY DAMAGE DRUM KIT INTRO SALE
Heavyocity Damage Drum Kit Intro Offer
Massive Drum Kit for Modern Music and Scoring available now for only € 99!
Valid through June 14th.
---
United Plugins – Plugin of the Week Sale
United Plugins PLUGIN OF THE WEEK SALE
Every week a United Plugins product will be discounted by 50% for the duration of two weeks.
---
VSL Synchron Prime Edition Intro Offer
VSL Synchron Prime Edition Intro Offer – $485
Enter Vienna's Synchron world with this powerful all-in-one package that provides you with everything you need to create stunning orchestral arrangements with breathtaking realism and pristine sound packed with emotion.
Synchron Prime Edition is available at the introductory price of $485 until the end of May.
If you have one or more of the major Synchron Series Collections, take advantage of the significantly lower crossgrade pricing. Simply log into your account, add the Synchron Prime Edition to your shopping cart, and then request the VSL User discount.
Discounts are also available in the other direction – when upgrading from the Synchron Prime Edition to the major Synchron Series Collections.
---
Sonuscore THE ORCHESTRA COMPLETE 2 –
$459
SONUSCORE THE ORCHESTRA COMPLETE 2 – $459
"The Orchestra Complete 2" as the flagship of the "The Orchestra" product family combines the force of the original 80-piece orchestra with additional articulations and powerful features. It now includes not only "Strings Of Winter" but also "Horns Of Hell".
In this revolutionary all-in-one package the sound of a symphonic orchestra is at your fingertips. With the groundbreaking ensemble-engine we created a super easy way for you to convert your ideas into music.
Immediately playable. Completely customizable. Surprisingly simple.
---
SonuScore THE ORCHESTRA ESSENTIALS –
$99
Sonuscore The Orchestra ESSENTIALS – $99
The Orchestra Essentials is your fast track to orchestral composing. It comes with a carefully selected curation of instruments from The Orchestra, Strings of Winter, and Horns of Hell and is powered by our groundbreaking ensemble-engine. Take your first orchestral steps and create amazing music in no time!
---
Steinberg Cubase Crossgrade Offer
Steinberg Cubase Crossgrade Offer
Save 20% on Cubase Pro Crossgrade through June 15th!
Competitive Crossgrade for DAW Owners
Steinberg is offering owners of competitive DAW products the opportunity to crossgrade to the latest version of Cubase Pro. Owners of the following products are eligible to obtain a full, unlimited version of Steinberg Cubase Pro at a special crossgrade price:
Ability Pro
Ableton Live 8 or higher (Standard and Suite / excl. Intro)
Apple Logic 9 or higher
Avid Pro Tools 9 or higher incl. subscriptions (Pro Tools and Pro Tools HD / excl. First)
Bitwig Studio 1 or higher (excl. Bitwig 16-Track)
Cakewalk Sonar X2 or higher (Platinum and Professional / excl. Artist / excl. Cakewalk by Bandlab
Cockos Reaper (commercial license only)
Imageline FL Studio 11 or higher (Signature and Producer / excl. Fruity)
Magix Samplitude Pro X 1 or higher excl. Music Studio)
Magix Sequoia 9 or higher
MOTU Digital Performer 7or higher
Presonus Studio One (Professional / excl. Prime and Artist)
Propellerhead Reason 6 or higher
---
AudioPlugin.Deals
AudioPlugin.Deals hosts several deals every month. Everything from plugins, virtual instruments, and sample packs can be had here for rock-bottom prices.
But, each deal is only live for 14 days!
---
DEAL 1
$39 (normally $119) Enforcer by Boom Library
This easy to use bass plug-in from Boom Library adds an irresistible punch, powerful body and a rigorous low-end bass impulse to your samples.
You can heavily beef up sounds or add only a hint of weight. You can use it as a kick-drum synth, exchange kick drum tails and tune them easily using semitones or you can completely exchange given source sounds.
If you are a musician or a mixing engineer and, in particular, a sound designer you will love this product.
THIS DEAL ENDS June 16, 2022
---
DEAL 2
$17.00 (normally $70) Groundshaker Groovebox by Rigid Audio
GENERATE RANDOM GROOVES WITH A SINGLE CLICK!
For only $17 (normally $70), get Groundshaker Groovebox, the latest release from Rigid Audio!
Groundshaker is ideal for dance, pop and techno genres and includes 1000 cutting-edge 24 bit WAV sound. Also includes 45 factory kits to get you started. Generate random grooves with a single click using Groundshaker.
Groundshaker supports audio file import, midi clip export and multi audio output for mixing in your DAW.
Limited time offer, don't miss out!
NOTE: Groundshaker requires the full version of Kontakt 6.4.2 or higher!
THIS DEAL ENDS June 15, 2022
---
DEAL 3
$34.99 (normally $119) CMixer by Digital Brain Instruments
CMixer is an all-in-one tool to run all your broadcasting events & live sets using your soundcard and favourite plugins.
Forget about using a hardware mixer and manage all your session inside the box!
THIS DEALS ENDS June 13, 2022
---
WA PRODUCTION
At WA Production you'll find plugins, loops, samples packs and way more at affordable prices for the modern producer.
---
Deal 1
$39.00 (normally $139.00) Initial Audio SEKTOR
Sektor is a polyphonic wavetable synth plugin with a highly intuitive user interface and a lot of customization features. Sektor was built to use a low amount of system resources while having a massive high-quality sound.
Advanced modulation features such as feature-rich modulation Envelopes, ADSR´s and LFO´s can be routed to the synth's parameters via drag and drop, or via the right-click menu of the knobs. The modulation matrix gives you even more access to features such as velocity, aftertouch and much more.
---
DEAL 2
Get the W.A PREMIUM VOCAL BUNDLE for only $20.00 for a limited time. (Normally $154)
Bundle details:
5 Vocal Construction Kits (+ MIDI & Lyrics)
80 Ethnic Vocal Loops & Phrases
1445 Vocal Shouts & Phrases
309 Vocal Harmony Loops
1200+ House Shouts & Phrases
325 EDM Vocal Shouts & Phrases
367 Character Voices
---
UGRITONE
UGRITONE creates plugins and instruments specifically for METAL! 🤘
---
Almighty TRVE Cab Bundle – $300
Get the TRVE CAB Impulse Response Loader plus 15 IR packs.
And if that's not good enough, because of our relationship with UGRITONE, you can get an EXTRA 20% off if you use the special discount code: BENONI
---
HEAVY METAL CREATOR PACK –
$97/Year
Heavy Metal Creator Pack Subscription $97/Year
EVERY. SINGLE. UGRITONE PRODUCT in an annual license bundle.
SAVE EVEN MORE! Use code: BENONI during checkout to save an EXTRA 20% (you're welcome)

More than a dozen Drum Libraries. Thousands of MIDI grooves. Hundreds of Impulse responses. A handful of VST Plugins – to help you to focus on songwriting!

For $97 / Year. It's a no-brainer. Best bang for the buck for all your Metal writing needs.
Fast toolset for your music composing needs.
Never lose your inspiration again due to too slow technical fiddling.
Throw in drum grooves, press rec and play your instruments on top, voila!
Choose your guitar cab tones from our selection.
Complement the song with DaZuul, Koji and 1989Verb.
SAVE EVEN MORE! Use code: BENONI during checkout to save an EXTRA 20% (you're welcome)
---
KVLT DRUMS II
$59
$59.00 KVLT DRUMS II
KVLT Drums 2 is a Drum Sample Library catered to cover all areas of 80's/90's/2000's Underground Metal Drum Sound. Unpolished beauty, raw natural sound.
Whether you're after chasing the sound of Norwegian fjords, buzzsaw sludge of Sweden, swampy marshlands of Tampa, thrash attack of the Bay Area, ear-piercing brutality of East Coast Death Metal or straight-edge breakdowns of Mid 90's Belgium; KVLT Drums 2 can cater that drum sound. Shape it anyway you like, enhance it anyway you like.
USE CODE: BENONI to save an extra 20%
---
*This site uses affiliate links