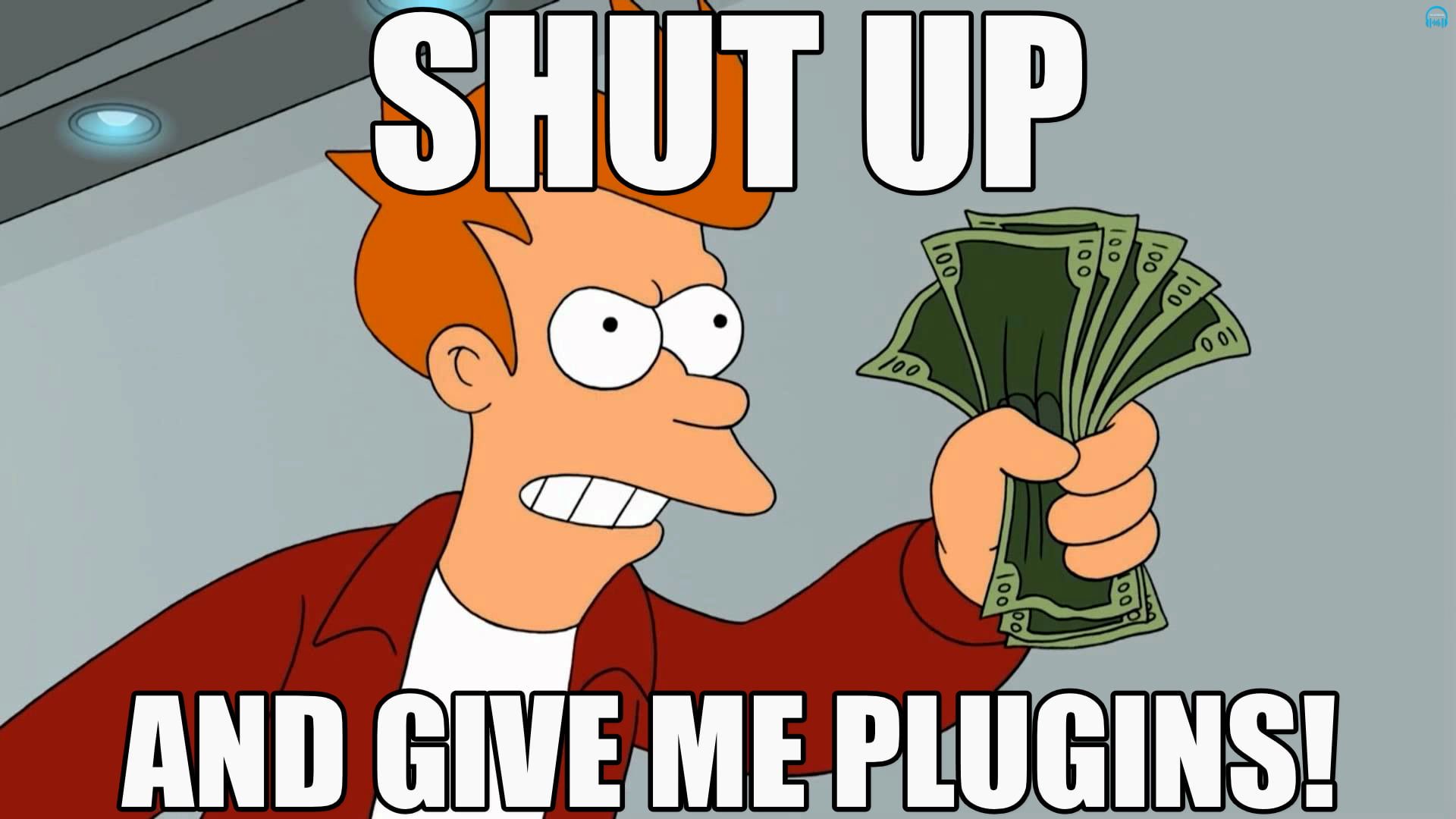 EPIC DEALS!
Plugin deals/sales are usually very time-limited, so if you see something you want, be sure to buy it before the sale is over!
---
NATIVE INSTRUMENTS
Native Instruments is a heavy hitter in the virtual instrument world. Their products include the industry standard KONTAKT, MASSIVE, FM8, MASCHINE, ABSYNTH, GUITAR RIG, and many more.
Buy their products individually, or in a KOMPLETE Bundle and save big.
---
KOMPLETE NOW SUBSCRIPTION –
$9.99/MONTH
Native Instruments KOMPLETE NOW is a new subscription option for KOMPLETE. Subscribe for $9.99/Month or $99.00/Year with no strings, cancel any time. Before subscribing, you can try it free for a full 30-days ?
---
KOMPLETE 14
Native Instruments KOMPLETE 14 is the biggest and most complete bundle yet ?
Get ALL the virtual instruments you will ever need, plus mixing and master tools in a single bundle.
Choose from KOMPLETE Standard, KOMPLETE Ultimate, or KOMPLETE Collector's Edition, whatever fits your needs and budget.
KOMPLETE 14 is a "Must Have" collection of VI's, sample libraries, and plugins. Everyone from musicians, to composers, to producers, and sound designers depend on the instruments and plugins included in K14 on a daily basis. Once you enter the world of KOMPLETE, you'll never go back.
---
---
PLUGIN BOUTIQUE
Plugin Boutique is a trusted online plugin warehouse. They host some crazy deals on plugins and instruments every month, and we bring the BEST to you here.
---
W.A. Production CHORDS PRO + NOTES Sale
This inspirational plugin keeps getting better and better. After the release of the original "Chords", W.A Production developed "Chords Pro" to include lots of user requests. Now it's time for another innovative update, with CHORDS PRO + NOTES taking the concepts of the original and turning the features and functionality up to eleven. Save 64% in our sale!
---
The simple and clear goal of Tone Empire is to provide "Hardware Quality" processors at unbelievable prices. Enjoy huge savings on a large range of their products with prices from only £19.95 / $25 in our Summer sale!
---
W.A. Production InstaComposer 2 Intro Sale
We've all experienced those moments when creativity runs dry. Fear not, as the newly updated Instacomposer 2 is your ultimate muse. This is a powerful MIDI generator plugin designed to revolutionize music creation. Buy or upgrade from InstaComposer 1 now and save up to 90% in our intro sale!
---
FabFilter Pro-Q 3 & Excite Audio VISION 4X Bundle Sale (Exclusive)
FabFilter's Pro-Q 3 is a fully-featured equaliser system with incredible workflow and sound quality capabilities, and has become the mainstay of innumerable audio professionals worldwide. Now, exclusively available through our website, we're thrilled to offer Pro-Q 3 bundled with Excite Audio's audio analysis powerhouse VISION 4X. Save 20% in our exclusive sale!
---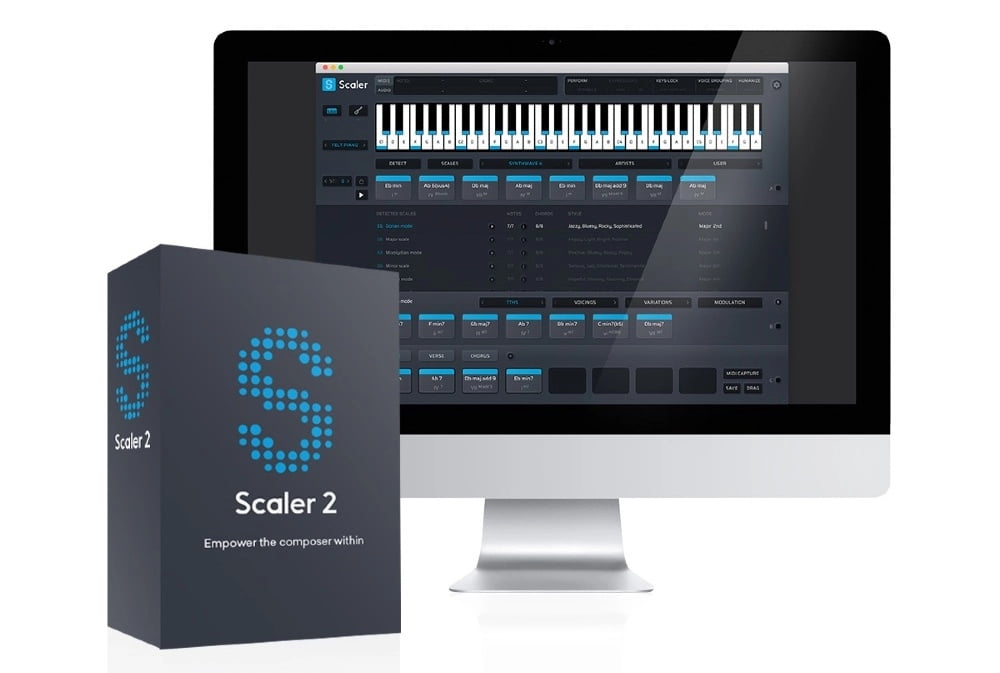 $59.00
Scaler 2 is one of the most useful MIDI tools for your DAW.
Scaler 2 works for anyone, even if you know nothing about music theory.
Quickly and easily create compositions, melodies, leads and more.
Play chords with one key!
This is a plugin that is a MUST HAVE for anyone who works with MIDI.
---
Softube Tube-Tech Paint It Blue Sale
Add a touch of analogue mojo to your music and save 50% on this series of iconic EQ and Compressor emulations from Softube including upgrades.
---
Save up to 66% off a selection of premium-grade add-on channels for Softube's Console 1 in our time-limited sale.
---
Imagine a luxury studio full of carefully chosen vintage gear. There are legendary compressors and EQs, classic Marshall amps and cabinets, pedals, mics, and more. Everything is ready and waiting for you to create top-tier guitar and bass tones. That's the Amp Room platform. Save up to 50% on the acclaimed guitar processor emulations in our Amp Room sale!
---
Sound Particles SkyDust Synth Month Sale (Exclusive)
SkyDust is the first spatial synthesizer plugin in the world, which allows you to play a note and get instant 3D sound in any immersive format. It's fantastic for stereo and exceptional in 3D. Save 30% on this truly innovative synth in our exclusive Synth Month sale!
---
This plugin kills static mixes. Baby Audio teamed up with Andrew Huang to create Transit: an FX plugin that'll give your mix transitions super powers. Use it for build-ups, drops, punctuations, risers and sweeps – and keep your listeners constantly engaged. Save up to 40% in our intro sale!
---
LOOPMASTERS/LOOPCLOUD
If you need loops, samples, or MIDI, Loopmasters is one of the most trusted places to buy from.
Loopcloud is a subscription service that includes a sample browser. Subscribe and download just the samples you want for your project.
---
WAVES
Waves is a heavy-hitter in the plugin world, they need no introduction. If you work with audio, you know who they are. Waves plugins are availible through a subscription or individually.
Subscribe to Waves Creative Access
---
Best Service
Best Service has a huge library of plugins and virtual instruments at unbeatable prices. Earn Best Coin with your purchases to redeem for a discount on your next purchase.
---
Get 40% off Classic SDX extensions and a free Drum MIDI Pack*!
*With the purchase of a Superior Drummer 3 Full Version or Superior Drummer 3 Crossgrade, you will receive a Drum MIDI Pack of your choice for free after registering with Toontrack.
Offer valid until September 30.
---
IK Multimedia – AmpliTube Sale
IK Multimedia – AmpliTube Sale: Select AmpliTube Packs as well as AmpliTube 5 Max at special prices!
---
UnitedPlugins – Plamen – Intro Offer
Get Plamen now and take advantage of the intro discount!
Valid until October 10.
---
Get AudioMatrix, the utility plugin for all sound professionals at an introductory price!
---
SonuScore THE ORCHESTRA COMPLETE 3 – $479
"The Orchestra Complete 3" combines the powerful orchestration capabilities that have made "The Orchestra" recognized in the composition community with brand-new articulations and the most effective new features ever. Composing faster, more freely, and more uniquely has never been simpler.
The third version, which includes all three "The Orchestra" expansions, is filled with thrilling potential and power. Among them are "Horns Of Hell", which features a diabolical "evil brass" section, "Strings Of Winter", which features a 41-piece string orchestra and captures the wild spirit of nature, and "Woods Of The Wild", which re-energizes the woodwinds to catch all that is evocative in their breath.
In addition to these expansions comes the all-in-one package of the base orchestra, a top-quality-recorded 80-piece orchestra with a massive array of articulations and a groundbreaking ensemble engine that has been rebuilt and expanded upon. It's now simpler than ever to turn your ideas into music.
---
Sonuscore The Orchestra ESSENTIALS – $99
The Orchestra Essentials is your fast track to orchestral composing. It comes with a carefully selected curation of instruments from The Orchestra, Strings of Winter, and Horns of Hell and is powered by our groundbreaking ensemble-engine. Take your first orchestral steps and create amazing music in no time!
---
PreSonus Studio One 6
Create Without Boundaries.
Having everything you need to record, produce, mix, master, and perform all in one user-friendly application with a customisable interface that lets you concentrate on the project at hand, Studio One makes producing quick and simple. Create killer beats blazing fast with integrated pattern editing and live looping. Studio One's pioneering drag-and-drop workflow makes it highly intuitive and fast to use; from adding effects to time-aligning drums, drag-and-drop streamlines production tasks. Compose using award-winning notation. Add sound to video using the all-new Video Track. Master entire albums seamlessly using your session files. And take it all to the stage or stream with the innovative Show Page. Whether you're new to recording or are a seasoned pro, Studio One makes every creator's life easier.
What's new in Version 6:
Customizable user interface. Show or hide essentially every user interface tool and function with the new Customization Editor.
Smart Templates. Smart Templates provide essential toolsets for the tasks at hand from basic recording to mixing stems, mastering an album to setting up a live show.
Global Lyrics Support. Add lyrics to your scores, songs, productions, and live performances with the all-new global Lyrics Track!
Global Video Track. The all-new global Video Track provides an intuitive video workflow thanks to the familiar drag and drop functionality that made Studio One famous.
Track Presets. Store every aspect of a given track or channel for instant recall, even for multiple selected tracks/channels.
Advanced Collaboration with PreSonus Sphere. Studio One 6 deepens the integration between your desktop application and your PreSonus Sphere Workspaces with convenient sharing options and built-in sync options right from the Studio One Browser.
Features
The only DAW that lets you compose, record, produce, mix, master, and perform all from a single, intuitive application
Intuitive, customizable work environment with industry-leading drag-and-drop functionality
Unlimited audio and instrument tracks, advanced automation features, virtual instruments, buses, and FX channels
Smart Templates make getting started recording, beatmaking, mastering, and setting up for a Show fast
Arranger Track makes it easy to remix and rearrange Songs, or fire loops live
Complete suite of 39 Native Effects plug-ins including all new De-Esser, Vocoder, and improved ProEQ3 with per-band dynamics mode.
Five powerful virtual instruments including: Impact XT drum sampler; Presence XT virtual sample-player; Mai Tai polyphonic analog modeling synthesizer; Mojito monophonic subtractive synthesizer; and Sample One XT live sampler and sample editor
Quickly compose drums and melodies with the integrated step-sequencer style Pattern Editor
Chord Track manipulates audio and note data of any or all tracks for Harmonic Editing and song prototyping
Console Shaper emulates the sound of an analog console with control over drive, noise, and even true channel crosstalk, thanks to Mix Engine FX's cross-channel processing
Score View for traditional notation, drum notation, and tablature
Sound Variations make it easy to manage articulations for complex orchestral libraries with dynamic mapping for EastWest Opus, Vienna Symphonic Library Synchron Player products, UJAM instruments, and more
Integrated mastering suite with automatic mix updating, DDP, Redbook CD burning, and digital release
Perform live with Studio One! Use your recorded assets to bring your album sound to the live show; play virtual amps live; sequence and re-arrange your setlist.
Integrated online Cloud Services including the PreSonus Shop, PreSonus Exchange, PreSonus Sphere, and bi-directional SoundCloud integration
Pristine sound quality with native 64-bit resolution and support for up to 768 kHz audio
Use Pro Tools, Cubase, Sonar, and Logic shortcut key commands or create your own
Compatible with ASIO-, Windows Audio-, and Core Audio-compliant audio interfaces
Advanced integration with PreSonus Sphere Workspaces
---
Save up to 80% by purchasing Ueberschall Bundles!
Soul Bundle instead of € 495 only € 199
Rock Bundle instead of € 495 only € 199
Lounge Bundle instead of € 495 only € 199
Urban Bundle instead of € 495 only € 199
Inspire Bundle instead of € 596 only € 249
Complete Instrument Bundle instead of € 5886 only € 999
Complete Construction Kit Bundle instead of € 12086 only € 1999
Complete Ueberschall Bundle instead of € 20189 only € 1999
---
SWEETWATER
Sweetwater is the world's leading retailer for music technology and instruments. They have everything from guitars, drums, microphones, audio interfaces, and even plugins.
They also have the best financing around!
---
MONTHLY GIVEAWAY
Sign up for this months MEGA GIVEAWAY!
Save BIG on plugins, DAWs, and other audio software in the Sweetwater Plugin Deals Zone
---
AudioPlugin.Deals
AudioPlugin.Deals hosts several deals every month. Everything from plugins, virtual instruments, and sample packs can be had here for rock-bottom prices.
But, each deal is only live for 14 days!
---
DEAL 1
For only $19 (normally $122), get the Modern Bodhrán by Libre Wave!
Modern Bodhrán brings the age-old traditional Celtic frame drum into the contemporary music landscape. With its rhythmic heartbeat resonating through centuries of Irish culture, the bodhrán has evolved into a captivating instrument sought after by musicians across genres.
Modern Bodhrán captures the essence of these iconic drums with its meticulously recorded and expertly crafted samples.
This is a limited time offer you should not miss, hurry and save!
Note: Powered by Rhapsody, a free and open-source sampler engine that runs on macOS, Windows and Linux
THIS DEAL ENDS Sept. 17, 2023
---
DEAL 2
Are you ready to rock? For a limited time only, you can get the Metal Bundle from Ueberschall for only $79! That's an unbelievable 82% off the normal price of $435!
The Metal Bundle from Ueberschall is a collection of five products that offer over 20GB of high-quality audio loops, samples, and sound effects for creating metal music.
The bundle includes Metal, Metal 2, Nu Metal, Thrash Metal, and Metal Riffs. Each product features multiple song construction kits, ready to crush the airwaves with the heaviest of down-tuned guitars, monstrous basses, and drum kits that don't give up.
Whether you are into classic heavy metal, hard rock, or contemporary metal styles, this bundle has everything you need to unleash your inner metalhead.
The Metal Bundle from Ueberschall is compatible with the free Elastik player, which allows you to easily audition, edit, and mix your loops in sync with your project. You can also use the tagging and filtering features to find the right loop for your needs.
This is a rare opportunity to get your hands on the Metal Bundle from Ueberschall for such a low price.
Limited time offer, don't miss out!
THIS DEAL ENDS Sept. 13, 2023
---
DEAL 3
Are you ready for the ultimate deal of the year? For a limited time only, you can get the Everything Bundle by MUZE for just $79! That's a jaw-dropping 98% off the normal price of $3890!
The Everything Bundle by MUZE is a collection of all the products by MUZE, a company that creates high-quality Kontakt libraries for music production and sound design.
The Everything Bundle includes 47 products that cover a wide range of instruments, sounds, and genres. The Everything Bundle offers over 300GB of content and over 500,000 samples.
You will get access to pianos, guitars, drums, synths, strings, brass, woodwinds, vocals, ethnic instruments, soundscapes, effects, and more. Each product has its own unique sound and features, giving you endless possibilities for your musical creativity.
This is a rare opportunity to get your hands on the Everything Bundle by MUZE for such a low price.
Limited time offer, don't miss out!
THIS DEALS ENDS Sept. 10, 2023
---
UGRITONE
UGRITONE creates plugins and instruments specifically for METAL! ?
---
Almighty TRVE Cab Bundle – $39
Get the TRVE CAB Impulse Response Loader plus 15 IR packs.
And if that's not good enough, because of our relationship with UGRITONE, you can get an EXTRA 20% off if you use the special discount code: BENONI
---
HEAVY METAL CREATOR PACK –
$97/Year
Heavy Metal Creator Pack Subscription $97/Year
EVERY. SINGLE. UGRITONE PRODUCT in an annual license bundle.
SAVE EVEN MORE! Use code: BENONI during checkout to save an EXTRA 20% (you're welcome)

More than a dozen Drum Libraries. Thousands of MIDI grooves. Hundreds of Impulse responses. A handful of VST Plugins – to help you to focus on songwriting!

For $97 / Year. It's a no-brainer. Best bang for the buck for all your Metal writing needs.
Fast toolset for your music composing needs.
Never lose your inspiration again due to too slow technical fiddling.
Throw in drum grooves, press rec and play your instruments on top, voila!
Choose your guitar cab tones from our selection.
Complement the song with DaZuul, Koji and 1989Verb.
SAVE EVEN MORE! Use code: BENONI during checkout to save an EXTRA 20% (you're welcome)
---
KVLT DRUMS II
$29
$59.00 KVLT DRUMS II
KVLT Drums 2 is a Drum Sample Library catered to cover all areas of 80's/90's/2000's Underground Metal Drum Sound. Unpolished beauty, raw natural sound.
Whether you're after chasing the sound of Norwegian fjords, buzzsaw sludge of Sweden, swampy marshlands of Tampa, thrash attack of the Bay Area, ear-piercing brutality of East Coast Death Metal or straight-edge breakdowns of Mid 90's Belgium; KVLT Drums 2 can cater that drum sound. Shape it anyway you like, enhance it anyway you like.
USE CODE: BENONI to save an extra 20%
---
*This site uses affiliate links