DIEZEL VH4 Plugin – The Definitive Guide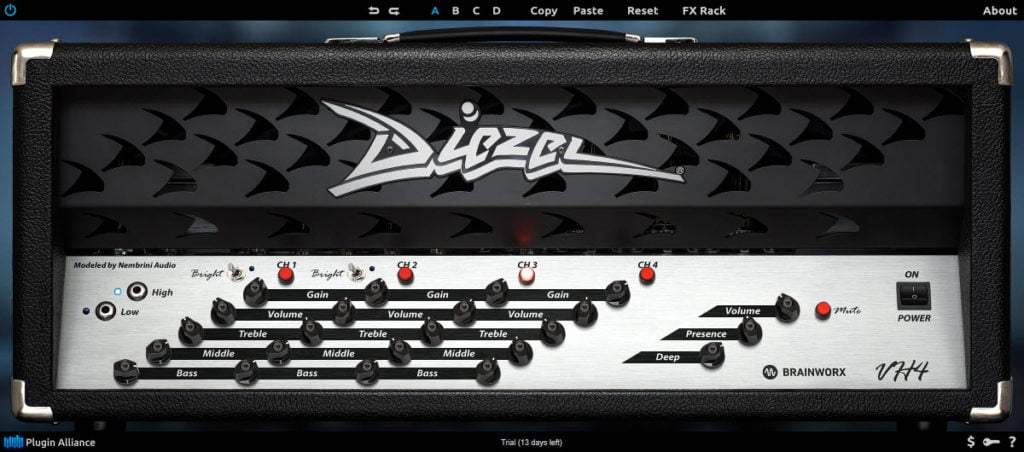 Plugin Alliance and Brainworx have released another killer guitar amp plugin, this time the DIEZEL VH4.
The Diezel VH4 is true to it's analogue counterpart. Not only is the interface laid out just like the real amp, the sound is also spot on. And it would have to be, since this plugin is officially endorsed by Diezel.
Just like the other Brainworx guitar amps, the VH4 features the Recording Chains instead of choosing a separate cab and microphone model. Using these impulse responses is one of the reasons why the Brainworx amps sound so good. And they include plenty of Recording Chains to choose from, 119 to be exact, plus a 'No Recording Chain' option if you want to use your own impulse responses hosted in any IR loader plugin.
The Brainworx VH4 includes all the tools you need for a professional and realistic guitar tone.
You'll find a noise gate, high/low pass filters, delay, and other options to get just the tone you want.
This guitar amp is capable of going from pretty clean, to extra high gain. You'll have no problem playing almost any style with this amp – from blues to djent and metal.
You should really play with the tone stack on this amp as it acts differently from other amp plugins. You can really pull down the Treble and Mids and boost the Presence and Depth to get a super brutal metal tone.
Watch the video below to learn everything you need to know about the legendary guitar amp plugin and to hear how it sounds.
TIMECODE
0:00 – Intro
0:42 – Presets & Top Toolbar
3:37 – The Front Panel
8:55 – FX Rack
18:01 – Recording Chains
About Post Author