WAVES NX HEAD TRACKER
REVIEW
The Waves Nx Head Tracker is a small Bluetooth device that attaches to your headphones and tracks your head movements when using Waves Nx software, and it's compatible with all of them!
So it doesn't matter if you're using Waves Nx Virtual Mix Room, Abbey Road Studio 3, Nx Ocean Way Nashville, or CLA Nx.
The idea behind the Nx Head Tracker is to make it even more realistic when mixing with headphones.
The Nx software creates the effect of being in a real room. You'll get the cross-talk of the speakers, the reflections of the room, etc…
But, when you are in a real room and listening through speakers, if you turn your head you will hear your mix in a different way.
If you turn your head so your left ear is closer to the speakers, obviously you will hear the audio louder in your left ear than you do the right ear – and that's what the Nx Head Tracker does.
It makes mixing in headphones more like mixing in a real studio.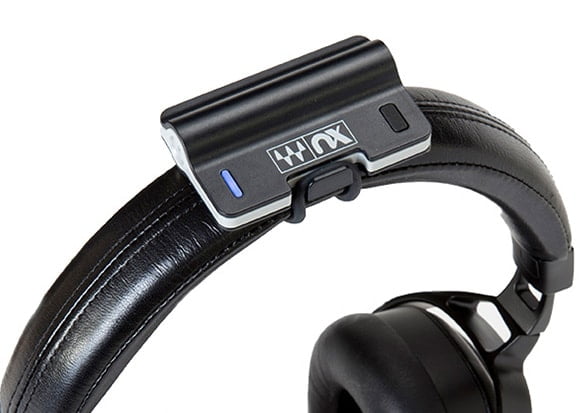 The Nx Head Tracker is a small device that uses a single AAA battery and connects to the Bluetooth of your computer.
The device will work for about 40 hours on a single battery – and that is working time!
It will automatically go into sleep mode when not in use.
Since the device sits on top of your headphone band, it does not interfere with the use of your headphones, so you can leave it attached even when you are not using it.
You can use a webcam for head tracking, but it's not always accurate depending on the webcam. Plus the Nx Head Tracker has a longer range than using a webcam, about 23 feet.
However, you can also use the Nx Head Tracker and webcam at the same time for even more accurate tracking.
VIDEO
You can buy the Nx Head Tracker on it's own, but it's usually cheaper to get in a bundle with Nx Software:
Nx Head Tracker + Nx Virtual Mix Room
Nx Head Tracker + Abbey Road Studio 3
Nx Head Tracker + Nx Ocean Way Nashville
Affiliate Disclosure: This site is an Amazon affiliate that earns money when people use our links. You get a great deal and we can keep providing content for free.
About Post Author