IMPACT SOUNDWORKS
INSIDIOUS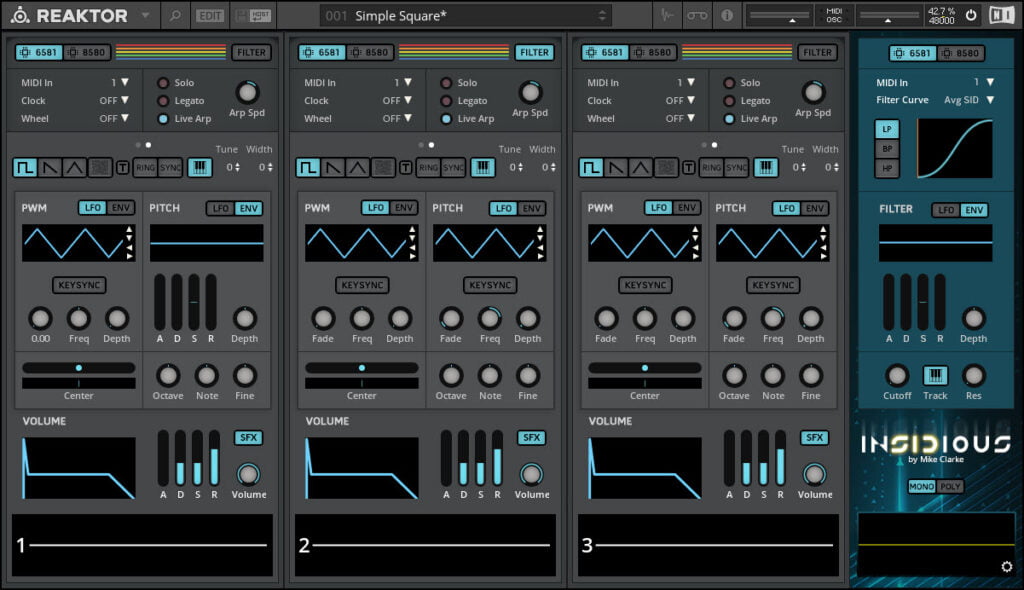 Impact Soundworks INSIDIOUS is the definitive SID chip plugin. The SID chip produced the icon sounds of the Commodore 64.
INSIDIOUS runs in Native Instruments REAKTOR or the free REAKTOR Player, and is perfect for chiptune, retro video game sounds, sound design, and plenty more.
INSIDIOUS has the authentic sounds of the 6581 & 8580 chips, multiple waveforms, step sequencer, and plenty of ways to dial in your sound with LFO's and Envelops.
There's over 300 presets included to get you started. So scroll through some presets, find something that fits what you need, and modify it from there (if needed).
You can also change the MIDI IN channel for each of the 3 oscillators.
This means you can have 3 different MIDI parts playing through a single instance of INSIDIOUS.
This video will go over everything you need to know about INSIDIOUS, and there's a demo of sounds towards the end.
You can checkout more full song samples and buy Impact Soundworks INSIDIOUS here
Affiliate Disclosure: This site is an Amazon affiliate that earns money when people use our links. You get a great deal and we can keep providing content for free.
About Post Author