HOW TO INSTALL
KOMPLETE 13
Native Instruments KOMPLETE 13 is a giant package of must-have instruments and effects, but how do you install all of it?
We'll cover it here!
First, you'll use Native Access to register, install, and update all of your NI apps and sample libraries.
Native Instruments has a done a really good job improving the installation process over time, in the past we had to install from multiple DVD's and that took forever! But with Native Access, the installation is completely automated.
You can purchase KOMPLETE in two forms – Download or Boxed.
The boxed version includes a hard drive with all of the installers on it. This is what you want! The price is the same, so why buy the version you have to download? And you may have to download and store 1TB of data if you purchase Ultimate Collector's Edition. Just get the boxed version and save yourself some time.
But you should also be aware that even with the boxed version, you will have to download around 100GB's of content since the hard drives were finalized before release and the Cremona Quartet libraries were not included on the drive.
Whether you have standard KOMPLETE 13 all the way through KOMPLETE 13 ULTIMATE COLLECTOR'S EDITION, the installation will be the same.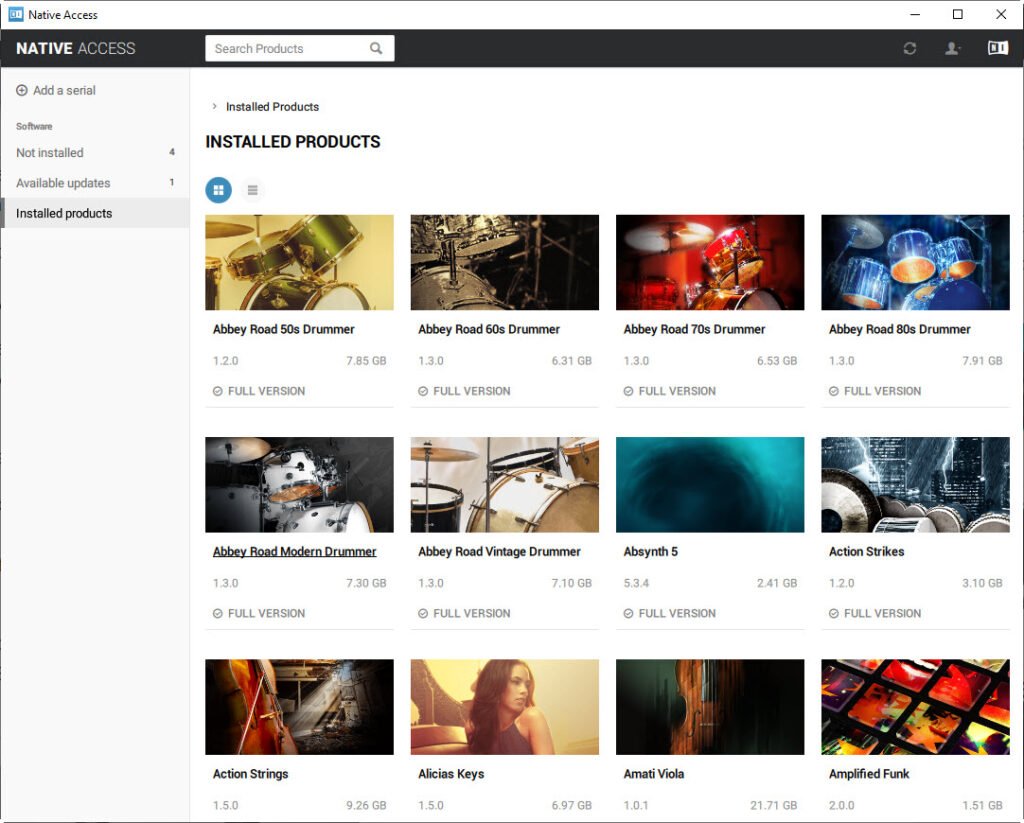 Also, for those who don't know, the included hard drive is ONLY for installation purposes!
You CANNOT run any of the plugins or sample libraries from the included hard drive!
You MUST install the content on to another drive!
And the truth is, you would not want to run the content from the included drive.
The drive included with the boxed version is a low-end 2.5″ slim hard drive, 5400 rpm. It is NOT an SSD.
If you want to see the full specs and the deconstruction of the included disk, check out this video
KOMPLETE 13 – Is it a HDD or SSD?
Before installing, make sure you check the preferences in Native Access!
You can change the Download location. This is where content will download, be unzipped, and then installed. The files will be deleted after install. This is NOT where plugins or content will be installed to – this is where the installers will be downloaded.
The Application location should be left alone. You want the apps installed to your OS drive, and the apps/plugins themselves are not that large.
The Content location is where the sample libraries and some other content will be installed to. This is what takes up so much space – about 1TB for the Ultimate Collector's Edition!
The Content is things like Damage (15GB), Guarneri Violin (22.7GB), Symphony Series String Ensemble (31.7GB), etc…
It's a good idea install the content to a non-OS drive (so not your C: drive if you are on Windows)
It can be installed to an external drive or an internal drive.
For better performance, install the content to an SSD, it really makes a HUGE difference!
Then you have the VST location.
You have a 64 bit and 32 bit location, though most DAWs today only use 64 bit plugins.
And these locations are ONLY for the VST2 version of the plugins.
VST3, and AAX are ALWAYS installed to the proper, hard coded location.
If you have a folder you already use for VST2 files, you can change that here.
Or, leave it to the default.
Just understand, if you leave the VST location on the default setting, make sure you add that VST path in your DAW, otherwise you won't find many of the plugins in your DAW.
Once you are all setup, save you settings and your are ready to install.
You have the option to install the products individually, and you can do this by manually clicking Install under each product.
But if you want everything, and most people do, simply click the Install All button and Native Access will install everything for you with no further input.
Click Install All, and walk away for a couple hours (or longer).
When you get back, KOMPLETE 13 will be fully installed, and ready to use.
VIDEO
Komplete 13 Getting Started site (website located on the included card)
Affiliate Disclosure: This site is an Amazon affiliate that earns money when people use our links. You get a great deal and we can keep providing content for free.
About Post Author