BUTCH VIG DRUMS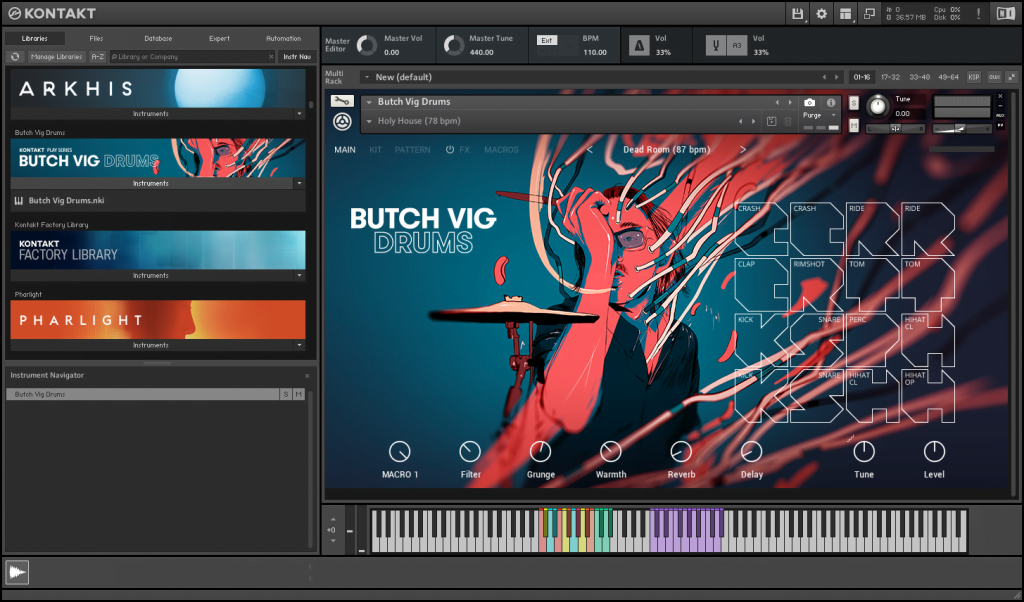 Butch Vig Drums from Native Instruments features production ready drum sounds from the man himself, Butch Vig.
Butch Vig has worked with bands such as: Nirvana, Smashing Pumpkins, Green Day, and many more. He is also the drummer and producer for the band Garbage.
Butch Vig Drums runs inside of KONTAKT, either the full/paid version, or the free Kontakt Player.
It includes 468 sounds, 21 kits, and 336 MIDI patterns.
The keyboard in KONTAKT is color coded to show the individual drum hits (multi-colored) and the patterns (purple).
You have full control over every aspect of the drum sounds in the KIT page. Swap samples, tune, pan, adjust volume etc… There are also included FX, and the ability to use Insert FX, Global FX, and Send FX.
Then use the Macros page to control multiple parameters with one knob.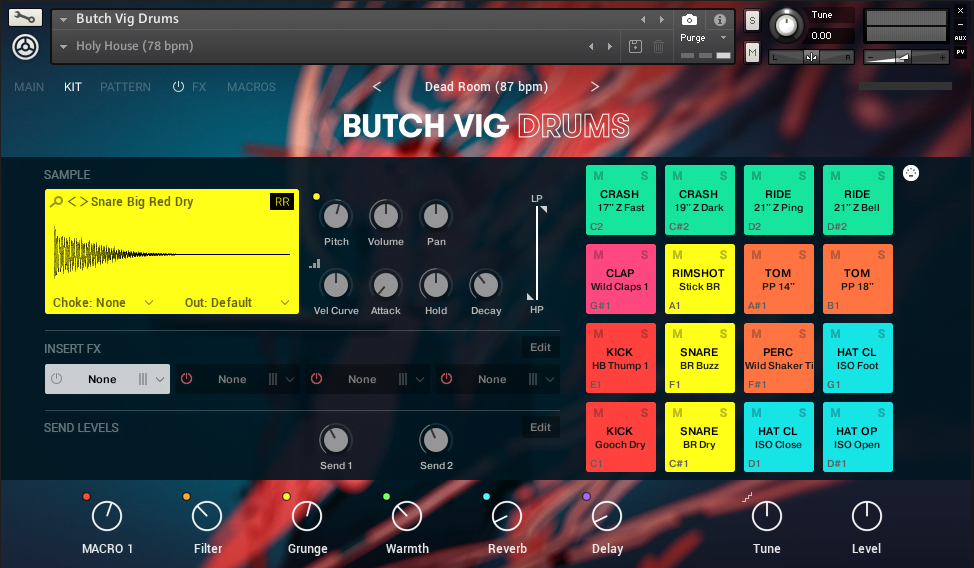 Use the KIT page to modify each pad/sample. You can also setup Choke Groups and Multiple Outputs from this page.
If you don't like the drum sample loaded in a slot, swap it out with one of the 468 included sounds.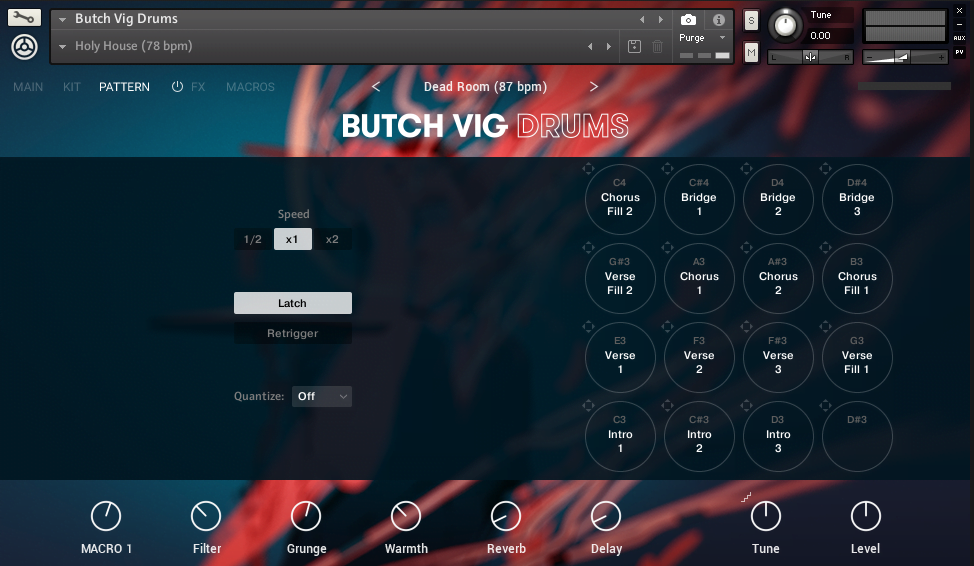 From the PATTERN page you can view the 16 drums patterns included with that kit. Click them to preview or trigger with your MIDI keyboard. You can also drag the MIDI patterns into your DAW and edit them how ever you want. And of course you can play or program your own MIDI in your DAW.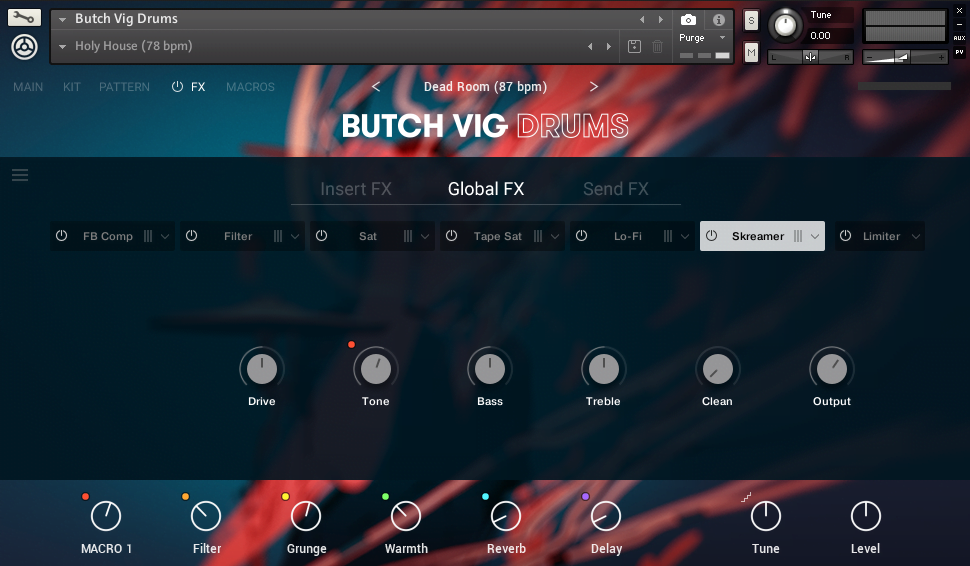 From the FX page you can add FX to each drum sample (Insert FX), to everything (Global FX), and setup your Send FX (reverb & delay). Adjust the send level for each drum from the KIT page.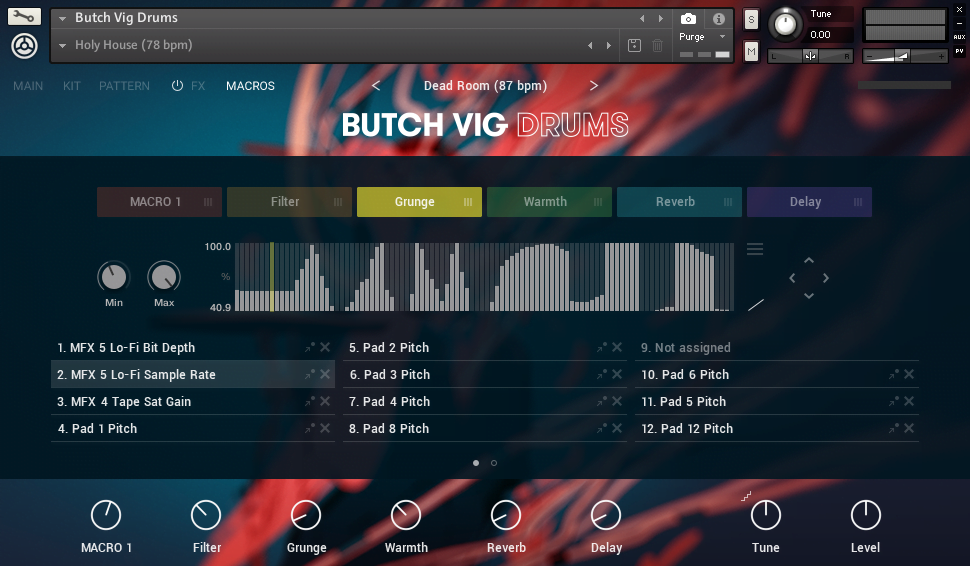 The MACROS page can be as simple or complicated as you want. Add up to 24 different parameters per macro, and adjust them all with one knob.
Check out the video below for a full walkthrough of every parameter of Butch Vig Drums, and hear it in action.
VIDEO
You can buy Butch Vig Drums on its own, or get it as a part of KOMPLETE 13.
Check it out further here: https://www.native-instruments.com/en/products/komplete/play-series/butch-vig-drums/
About Post Author