ONE PLUGIN DOES IT ALL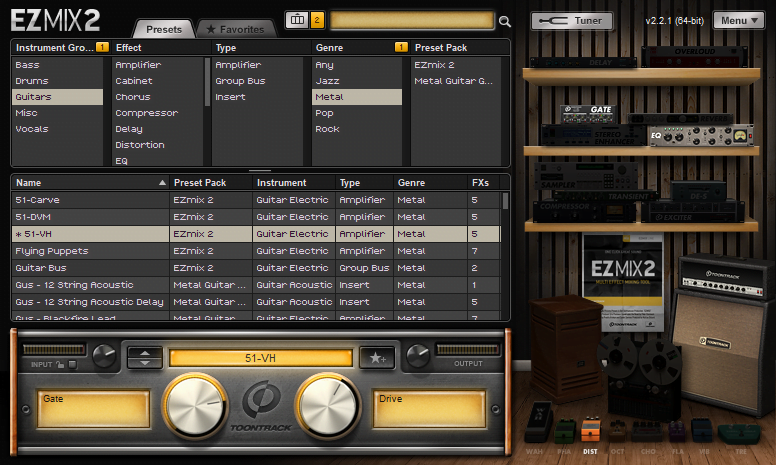 EZmix 2 by Toontrack lives up to it's name, it's very easy to use, like stupid easy to use. Simply select a type of instrument, click through some presets, and BAM – your track is mixed.
EZmix 2 is entirely PRESET based. There are two controls (basically macro knobs) that adjust several settings in the background based on the preset you have loaded, but that's it. You won't be tweaking parameter after parameter for every effect included in the chain.
No matter what type of track you are mixing, EZmix 2 can handle it. If you have an entire drum kit to mix for example, you would:
Load EZmix 2 on each drum track (kick, snare, toms, cymbals, etc…) Then on each track, simply call up a preset for the sound you want. If you are mixing a Kick, you can filter presets by Instrument type, Effect, Genre, etc… or just type KICK into the search field.
Playback the track, then start switching through presets. Once you find the sound you like, you're done! Move on to the snare, toms, or other track.
Maybe you are mixing a vocal track, no problem!
Choose a Vocal preset, switch through them until you find the one you like, and that's it. Whether you want a vocal track with eq, compression, reverb, and delay – or something simple like eq, slight compression, and de-essing, you'll find a preset for that.
EZmix 2 includes a full toolbox of effects:
EQs
Compressors
Reverbs
Delays
Tape Machines
Distortion
Chorus
Flanger
Phaser
Stomp boxes
Guitar Amps
Bass Amps
and more!
And it's not just that EZmix 2 includes all of these effects, but it includes presets of FULL CHAINS of effects that have been set to produce sounds that work, sounds that have been on pro releases.
And all you need to do to get these sounds, it choose a preset. You won't have to worry about loading up a bunch of individual plugins and adjusting each of them so they work together, all of that has been taken care of for you by professional engineers so you can focus on the music.
EZmix 2 is also a guitar amp plugin! Call up a preset of a professional amp sound, and jam away – no need to tweak settings.
Plus, it's not just for mixing. You'll also find Mastering presets within EZmix 2. And these presets have been setup by professionals, taking care to adjust the settings of each piece of hardware in the chain and capturing that in a preset that you can call up with one click.
VIDEO
Technically, you could replace thousands of dollars worth of plugins with EZmix 2. And if a certain sound is not available in EZmix 2, there are several expansion packs you can buy to add to the effects and sounds inside of EZmix 2. There are expansion packs that add guitar amp sounds from pro players, expansions from pro producers, expansions just for vocals, or effects, or even mastering.
So if you dislike the mixing and mastering part of audio, you don't have the skills to dial in several plugins, you don't have a bunch of plugins, or you're a pro – but you just want to get things done faster, you should give EZmix 2 a try.
But isn't using presets "cheating"?
No. That's stupid. Don't listen to the audio snobs! Just because something is easy, does not make it cheating. And trust me when I say, NOBODY CARES about how you achieved a great sounding track. No one is listening to your music thinking, "Wow, I bet he used a $10,000 SSL desk for this mix". No one is impressed or cares in any way.
There is ONE rule in audio: If it sounds good, it is good.
Check out EZmix 2 here
About Post Author