NATIVE INSTRUMENTS – NOIRE
NOIRE from Native Instruments and Galaxy Instruments is a beautifully sampled Yamaha CFX grand piano. This is the exact piano used by Nils Frahm.
The total size of the library is about 14.6GB fully installed.
NOIRE runs in KONTAKT. You can use the full/paid version of Kontakt or the free Kontakt Player.
NOIRE includes two instruments, a Pure version and a Felt version. The Felt instrument has a felt moderator between the hammers and strings and provides a softer attack and a more intimate sound.
You can use NOIRE for any style of music. The Pure version is a great all-arounder, and the Felt version is perfect for neo-classical and post-minimal genres.
You have full control over every aspect of this piano. There are included effects, noise samples, and the Particles Engine.
The Particles Engine will generate notes based off of what you play. So with only a note or two, you could generate a complex piano piece. The Particles Engine is one of the coolest things I've seen in a piano library, you can quickly come up with new ideas, add an ethereal sparkle, or a rhythmic pulse for your piano parts.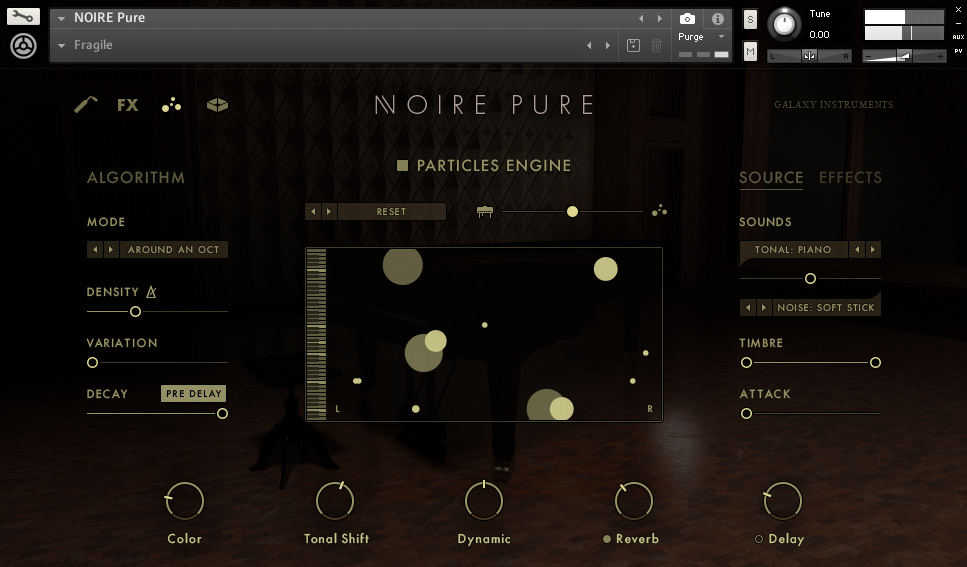 You have complete control with NOIRE. Use it for 'normal' piano tracks, or dive in to all of the included FX and use it for Sound Design purposes. NOIRE is an amazing addition to the KONTAKT piano world, and it has quickly become one of my "go-to" pianos. Check out the video to learn everything you could ever want to know about NOIRE.
VIDEO
You can buy NOIRE on its own, or get it as part of KOMPLETE 13 – which is the best way to go in my opinion.
About Post Author