BABY Audio
PARALLEL AGGRESSOR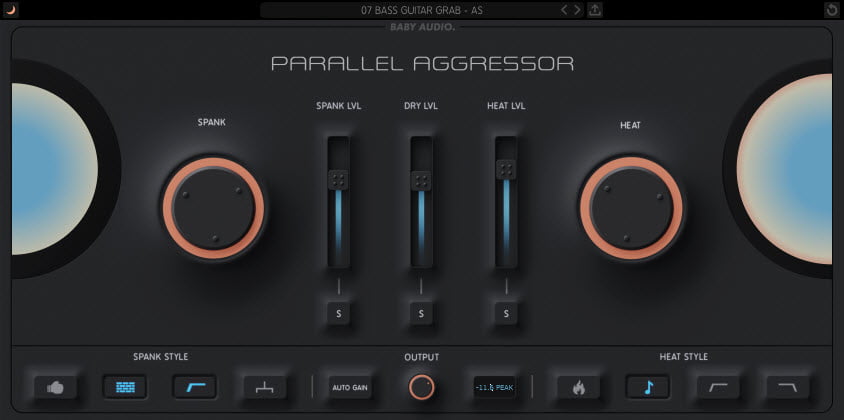 PARALLEL AGGRESSOR is a unique plugin that splits your audio into three streams: Dry, Spank, and Heat.
DRY – is the unaffected signal
SPANK – (Parallel Compression) will add punch, weight, and power to your tracks.
HEAT – (Parallel Saturation) adds pleasing harmonics, analog goodness, or lo-fi flavor to your tracks.

And because you have three streams, your can get the benefits of compression and saturation without ruining the natural dynamics and tone of your track.
Just dial in the amount of each, chose a Style, or multiple styles of compression and saturation, and your tracks will come alive.
Also, you don't necessarily have to use the SPANK and HEAT!
If you just want parallel compression, dial down the Heat, and vice versa if you just want some saturation on your track.
Best of all, you don't need to do any kind of routing that you would normally have to do in your DAW to setup parallel audio tracks.
PARALLEL AGGRESSOR takes care of everything for you, so you can focus on the music.
Check out this video to see it in action.
VIDEO
You can get PARALLEL AGGRESSOR from BABY Audio
Affiliate Disclosure: This site is an Amazon affiliate that earns money when people use our links. You get a great deal and we can keep providing content for free.
About Post Author