Waves LoAir Demo & Review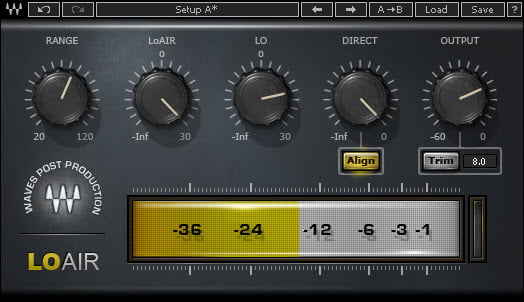 Waves LoAir will bring down the WALLS!
LoAir is a sub harmonic generator that will generate low end an octave below your selected range.
Use it for sound design, cinematic sound beds, dance music, and even on individual instruments like piano, guitar, bass, vocals, strings, and more.
But BE CAREFUL! LoAir can generate extreme LOW END that will shake your walls. If you have large studio monitors or a subwoofer, you will literally feel the (Lo)Air surrounding you and shaking your bones!
Waves LoAir is simple to use, choose the range you want to effect. Use the LoAir control to generate sub harmonic frequencies 1 octave below your range. Use Lo to pull in the filtered area of the low end. Then, use Direct to adjust the level of the unaffected signal.
Align will delay the direct signal a bit so it matches the LoAir signal, then use Output and Trim to adjust the overall level.
Watch the video to see it in action and hear how it sounds.
Get Waves LoAir here
And don't forget, you can save 10% on ALL Waves plugins with this link!
About Post Author