WAVES GREG WELLS VOICECENTRIC
PRO VOCALS FAST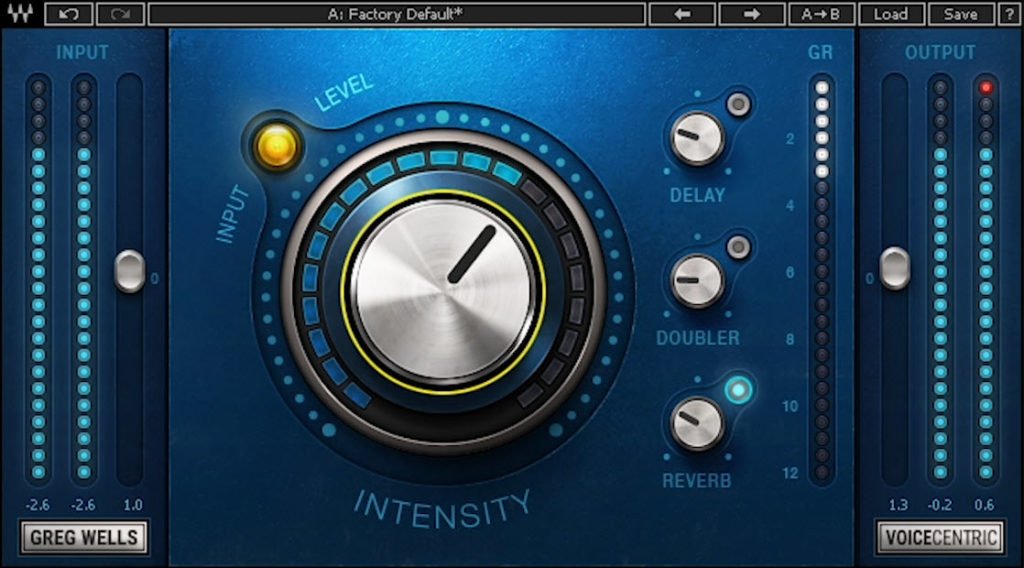 Greg Wells VoiceCentric from Waves is a deceptively simple looking plugin, but it produces great results fast.
Using it is simple.
Set your input to peak in the Yellow.
Adjust the Intensity knob until it sounds good to you.
Then, add in the included Delay, Doubler, and/or Reverb to make the vocal pop.
Pull up or down the Output slider to get a proper level, and DONE!
There's a lot of stuff going on behind the scenes with the Intensity knob.
Waves doesn't say exactly what is happening, but it's a combination of EQ, compression, and saturation.
At least that's what I hear.
The Intensity knob is not linear either.
Some stuff turns ON around 60 and other stuff comes on around 80, so you will need to use your ears.
For most vocals, starting around 40-65 works well.
One thing that makes this plugin so quick to use is the built-in effects.
Since they are already setup for vocals, you don't need to go through a hundred different settings to get to a starting point.
Just turn on the effect, adjust the level, and you're done.
Waves Greg Wells VoiceCentric is VST, AU, and AAX.
You can purchase it as a single plugin or as part of the Greg Wells Signature Bundle.
Save an EXTRA 10% on ALL Waves Plugins and Bundles
About Post Author