TRVE CAB
IMPULSE RESPONSE LOADER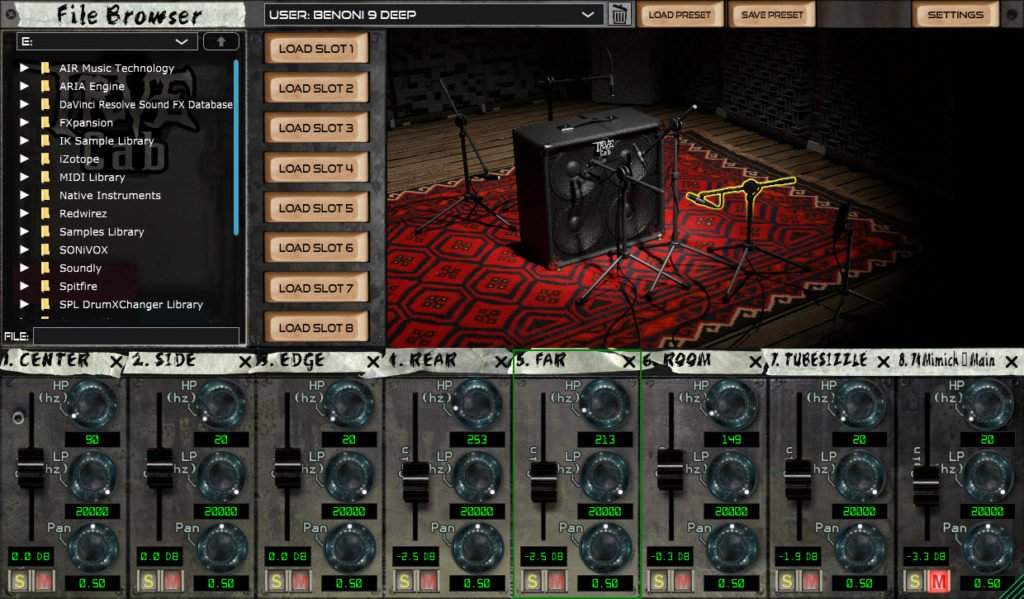 TRVE CAB ('True' cab for the non-metal people) has 8 slots, each with it's own level control, high pass and low pass, and panning.
It also comes with a free pack of IRs and presets. Load a preset to load several IRs at once, or choose to load them individually.
You can add more IR packs from Ugritone to expand your cab set.
You can also load your favorite impulse responses! So there are no limits to your tone.
Once you find your perfect tone, save it as a preset to re-call anytime.
I'd suggest you start with the presets, they have done a great job at capturing and providing an "amp in the room" tone.
Then, start adjusting the high pass and low pass, balance your levels, and add some panning if you want.
Then you could try loading in some individual IRs to see how they affect the tone. You can use more Ugritone IRs or mix in your favorite IRs.
Once you have it dialed in, save the preset, and make some METAL!
Check out the video for a full walk-through of the interface.
So, if you want to METAL UP YOUR CABS, you can check out TRVE CAB here
and check out the other IR packs here
If you want to save an EXTRA 20% use code: BENONI at checkout ?
TRVE CAB is VST/AU/AAX so it will work in any DAW.
Affiliate Disclosure: This site is an Amazon affiliate that earns money when people use our links. You get a great deal and we can keep providing content for free.
About Post Author