IMMERSE VIRTUAL STUDIO
MIX WITH HEADPHONES
Immerse Virtual Studio by Embody is a plugin that emulates professional studios and monitors – all in your headphones.
This allows you to mix your music confidently if you don't have quality monitors, need to mix while traveling, need to mix in your home studio at night, or just want to check your mix in different virtual rooms.
When mixing with headphones, you don't get the same sense of space that you get when listening through speakers.
This may make you over-pan an instrument, set levels wrong, or over-saturate audio in reverb for example.
5 Studio Rooms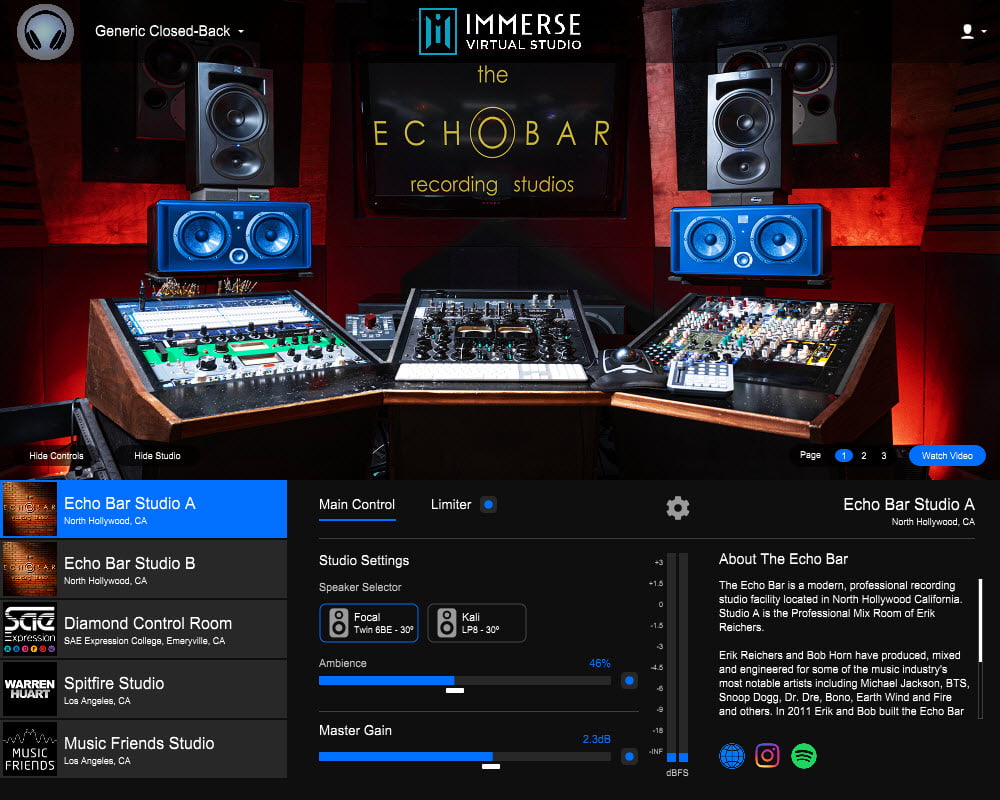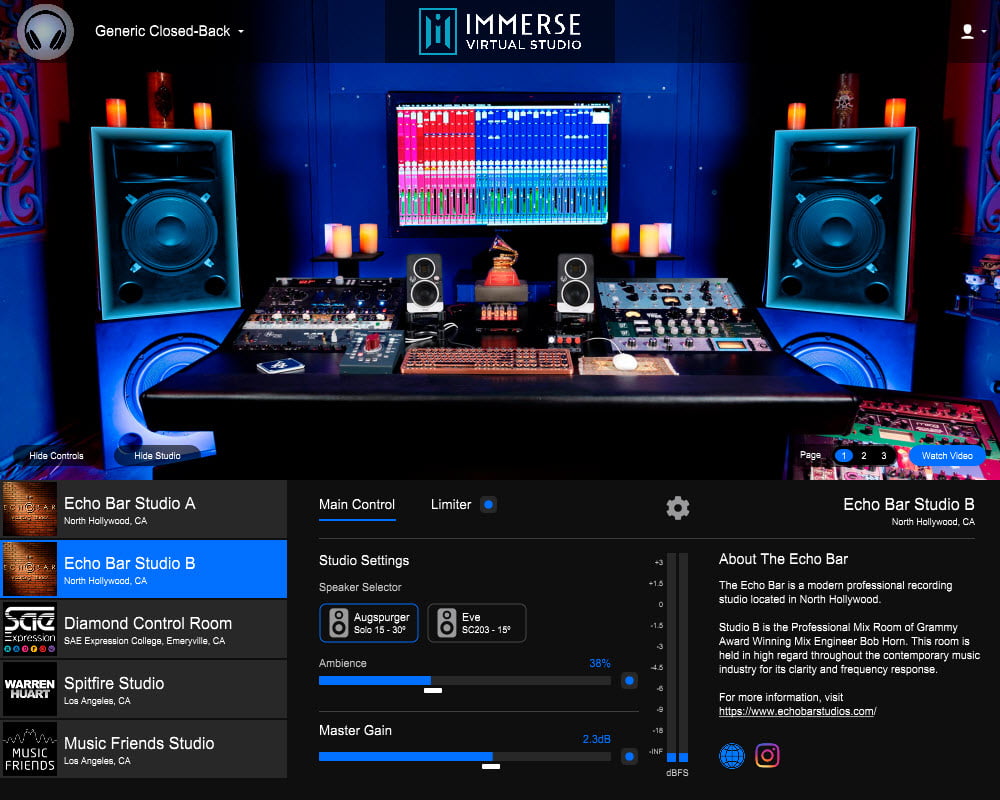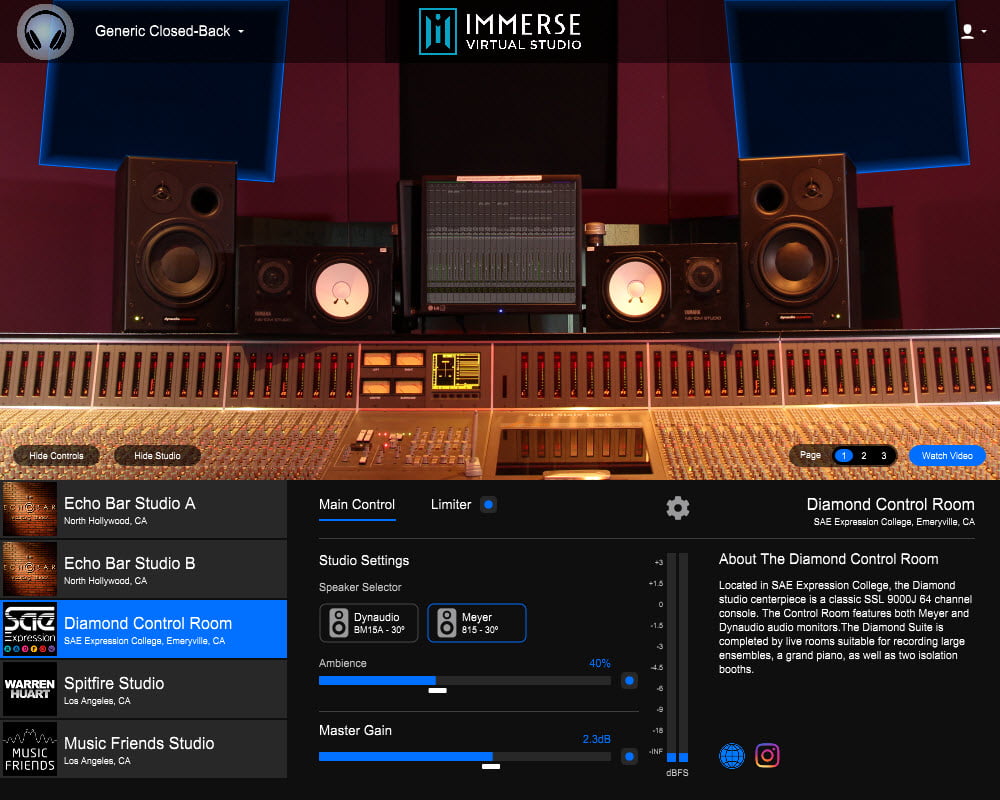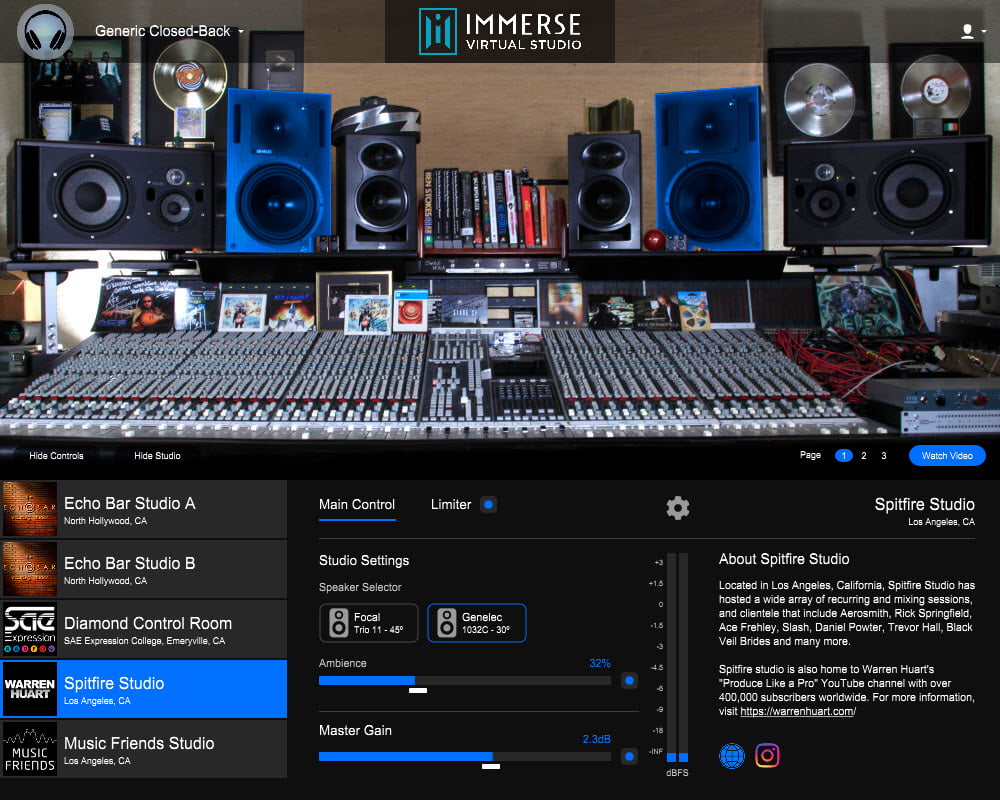 There are 5 professional studio rooms included in IVS.
These rooms are the same mix rooms of multi-platinum recording engineers like Bob Horn, Warren Huart, and others.
In each room you can switch between two sets of monitors as well.
So, not only can you check your mix between rooms, you can check it on different speakers to ensure the best mix once you release your track.
And it goes even further!
Upon launching Immerse Virtual Studio, you will be prompted to take a picture of your right ear with your phone in order to build a custom HRTF (head-related transfer function) that is personal to you.
This ensures maximum realism when mixing in your virtual room.
Depending on the version of IVS you get, there are also options for specific headphone models.
In the video below, we are using the All Access version, so we can choose from several specific headphones or a generic model if the pair you have isn't on the list.
Put on a pair of headphones, and watch the video below to see and hear what Immerse Virtual Studio can do.
VIDEO
There are many "virtual studio" plugins out there today, and we have reviewed others like Waves NX, and dearVR Monitor.
Each of them have different options and features, so it's a good idea to try them out and see what fits for you.
Immerse Virtual Studio has a 2 week free trial, and several options to buy or subscribe.
Get Immerse Virtual Studio here.
Affiliate Disclosure: This site is an Amazon affiliate that earns money when people use our links. You get a great deal and we can keep providing content for free.
About Post Author