How to Export Drums, MIDI, and Groove Audio
In this video we look at the several export functions in BFD3 from FXpansion. You will see how to export your drums (mix), MIDI, and audio from the grooves or drum tracks. You can use the export function instead of using the multiple outputs and routing the drums to your DAW.
BFD3 will let you export your drum mix from within BFD3 instead of routing out the drums to your DAW. You can export each individual drum channel, aux channels, and/or the master output. Choose your export options, playback, and the files will be written in real time.
BFD3 also lets you export MIDI from your grooves and drum track, either by using a dialogue or dragging and dropping.
You can also export the audio from grooves or the drum track in an offline fashion by using the 'Export Grooves/Drum Track Audio' function.
Before you export, check what tracks are armed for recording, check your levels and mix, and check your effects and groove effects, as these will impact your export.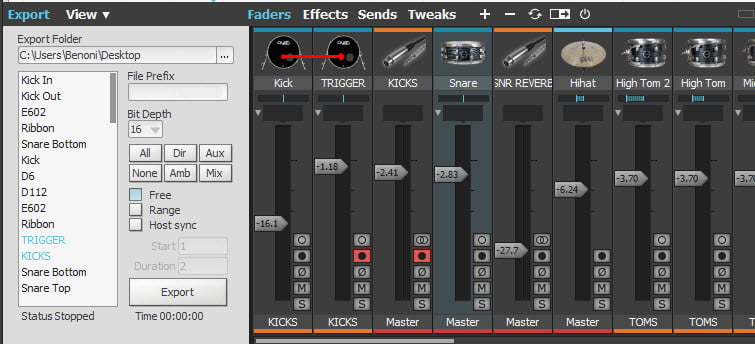 By exporting your individual drums with the effects off, you can then import the audio and mix your drums like you recorded a real drum kit and use your favorite effects.
Use the Export functions when BFD3 is a plugin or in standalone.
Timecode for each segment
0:54 – What To Know Before Export
3:10 – Export Drums
23:59 – Export Groove & Drum Track MIDI
34:14 – Export Groove & Drum Track Audio
40:44 – Export Groove & Drum Track Audio w/ Drag & Drop
48:15 – Export In Standalone
You also have the option of routing your drums to your DAW if you prefer that method of recording the drums from BFD3 into your DAW.
BFD3 MULTIPLE OUTPUTS | THE DEFINITIVE GUIDE (RECORD DRUMS INTO YOUR DAW)

Save an additional 10% on Waves plugins
https://www.waves.com/r/j2kruw
Directly support this content
Ethereum:
0x82111e3B4c433CAd4Cd71500725368b489f0b423
Bitcoin:
17ZDtMBXopFK4tpwG3iXU9WFznG65CgCJD
Bitcoin Cash:
127HvctzcxvGwP8LAamG7K8XSqPV4JzU2G
Litecoin:
LMdsQxvwo72aboVB2fA5kiq9YwyFNkvMKY
About Post Author