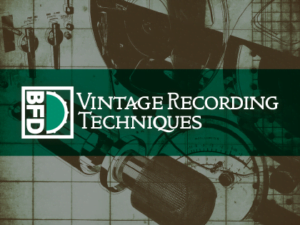 In this video I will go through every aspect of FXpansion's BFD Vintage Recording Techniques expansion pack drum library for BFD3.
BFD Vintage Recording Techniques employs a variety of vintage microphone techniques, such as: ORTF mic technique, Glyn Johns mic technique, Blumlein mic technique, etc… as well as direct microphones for a wide array of possible sounds.
Quick Overview – 0:14
Understanding the Mics – 2:04
Hear the Drums – 8:40
Hear the Presets – 20:02
Visit FXpansion.com to hear more samples of BFD Vintage Recording Techniques, including fully mixed sound samples in the context of a song.
I find this library to be very useful and unique. Having the ability to choose from so many microphones enhances your mixing choices, and it works well for composing many kinds of music. It's a great addition to the BFD3 universe. Of course, we have the direct microphones as well, so you can use this kit for vintage and modern drum sounds.
Check it out here:
https://www.fxpansion.com/products/bfdx/bfdexpansions/bfdvintagerecordingtechniques/
About Post Author