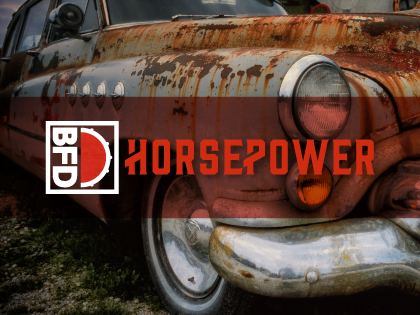 In this video we look at FXpansion's BFD HORSEPOWER drum expansion for BFD3. We will look at the download, install, and authorization process; a quick overview, and then hear every drum and cymbal hit in isolation. After that we hear the included Kits and Presets.
BFD Horsepower is an Americana style drum expansion for styles like, Country, Southern Rock, Blues, ect… There are stick and brush hits for the drums and cymbals.
The samples come in natural, and two different kinds of processing. That means you can have mix-ready drums, or use the pure samples and apply your own processing. OR, even use more effects on the already processed samples.
Even if this expansion does not target your main style, the samples sound really good, and they are usable for more than just blues, modern jazz, country rock, ect… In fact, the snare in particular is amazing for metal! It has a distinctive crack and ping that is reminiscent of old Slipknot and Lamb Of God.
If you don't like the kit or preset examples in this video, head over to the website to hear many more examples of Horsepower in the context of a drum kit.
BFD Horsepower is about 48GB for a full install and is for BFD3 only.
Overview: 1:31
Drums (Isolated hits): 3:13
Kits: 19:17
Presets: 21:46
About Post Author