AUDIENT iD14 MKII
AUDIO INTERFACE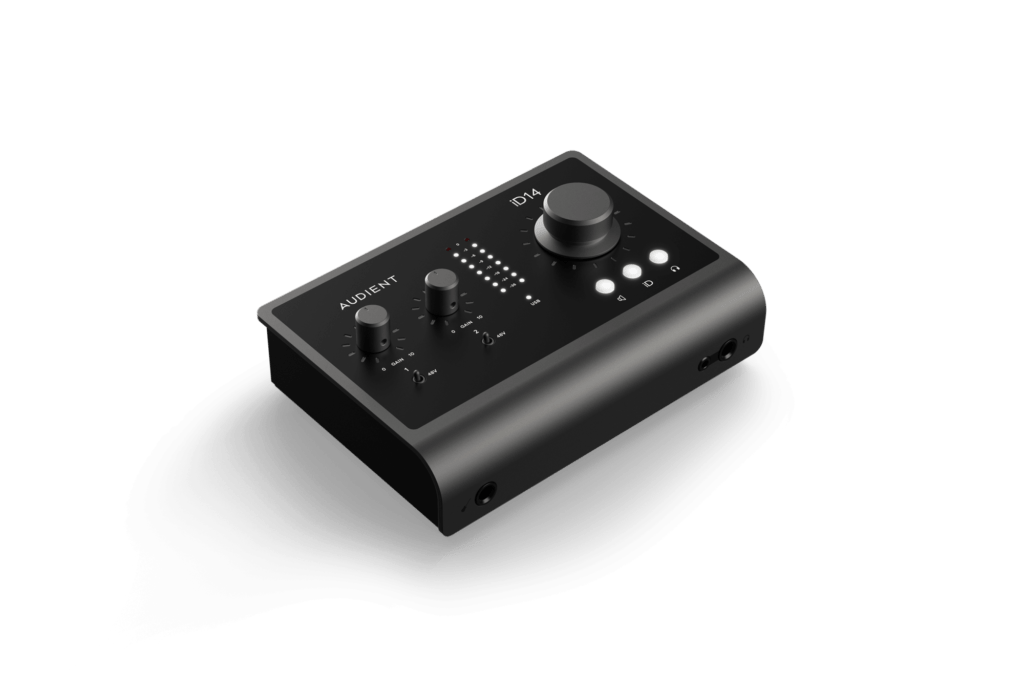 The Audient iD14 MKII packs a load of features in a small package.
It's USB bus powered, so it's easily portable – which is great if you record with a laptop in different places. But it also works just as well in your studio as you main audio interface.
The iD14 MKII has 2 powerful Mic/Line inputs on the rear. And these pre-amps are very high quality, and clean. They have 58dB of gain, and that's enough to drive most microphones.
But you also have a 10dB boost for both inputs. So, if you happen to use a Shure SM7B (which works best with 60-70dB of gain) you can use it with the iD14 without needing a Cloudlifter.
There's also an instrument input on the front for your guitar or bass, and when you use the front input, it will bypass Input 1 on the rear – so you can only use 2 inputs at the same time.
However, the iD14 also has an Optical Input. So you could connect an external mic pre-amp to the unit and have access to another 8 inputs (ADAT).

There are 4 Line Outputs on the rear, so you can use 2 sets of studio monitors at the same time, or send audio out to external processors.
Plus, the iD14 MKII has Speaker Switching built-in. Just click the ALT button in the on-screen mixer.
The iD14 MKII requires USB3 (type A) or USB-C. This is because USB2 does not provide enough power to properly power the unit. A USB-C cable is provided in the box, but you can purchase a USB-C to USB3 Type A cable if you don't have USB-C ports on your computer.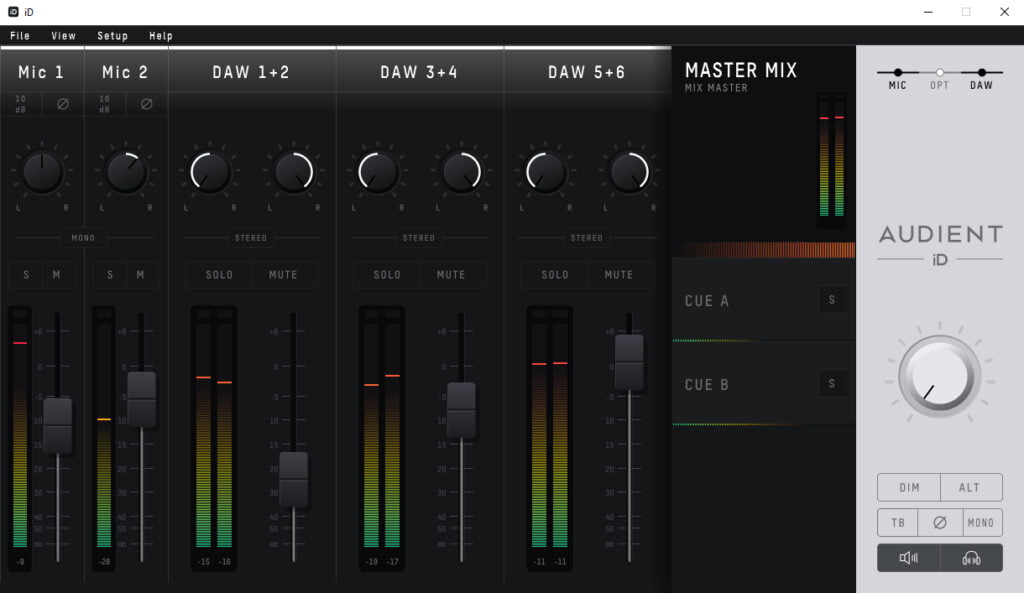 The iD Mixer lets you setup your no-latency direct input mix, control the return level from your DAW, setup two different Cue mixes, and control the iD14 MKII from your computer screen.
Checkout the video below for a full demo of how it works.
Also included is an interesting feature called ScrollControl.
With ScrollControl you can adjust your plugin parameters, write automation, adjust volume and pan in your DAW (supported DAWs only) with the big knob on the iD14.
You can think of ScrollControl as a second mouse scroll wheel. So, any parameter in a plugin or DAW that you can adjust with your mouse wheel will work with Scroll Control – and this really comes in handy if you use a laptop.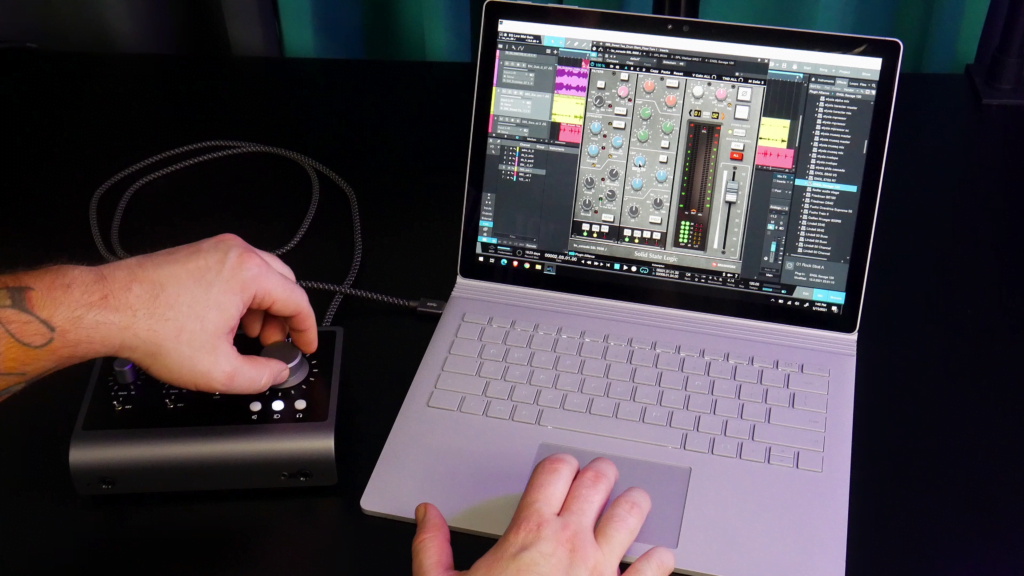 And if all of that is not enough, the iD14 MKII also includes Loopback.
With Loopback you can record non-DAW audio into your DAW (like the audio from a video playing in your browser)
Or use Loopback to livestream or screen-record with your DAW audio by using something like OBS.
Again, all of this is covered in detail in the video.
VIDEO
If you want to research the iD14 MKII further, head over to the Audient website and check it out.
Affiliate Disclosure: This site is an Amazon affiliate that earns money when people use our links. You get a great deal and we can keep providing content for free.
About Post Author