denise
BITE HARDER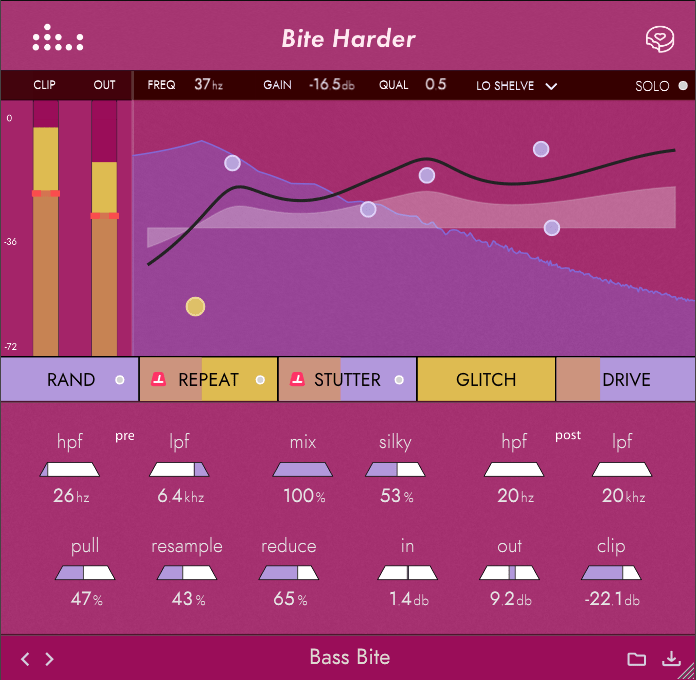 Bit Crusher plugins are used for many reasons. You can add an edge to a track or take it into screaming distortion. Bit crushing can breath new life into stale loops, make a kick or snare more aggressive, add texture to a vocal so it cuts though, create a dirty dubstep synth, and plenty more.
But, BITE HARDER takes it further.
Of course you have a bit crushing effect, but denise has also included a sample reducer, repeat, stutter, glitch, clipper, and drive fx.
You can dial it all in with the Push/Pull graph, high pass/low pass, mix, and silky controls.
So not only can you create focused bit crushing effects, you can also create cool stutters, repeats, and glitches from this single plugin.
Pro tip: use automation with this plugin!
Check out the video for a full rundown of all the controls and hear how it sounds on several sources.
VIDEO
denise BITE HARDER is VST, AU, and AAX compatible.
GET IT:
or
Affiliate Disclosure: This site is an Amazon affiliate that earns money when people use our links. You get a great deal and we can keep providing content for free.
About Post Author