PLUGIN ALLIANCE MEGA BUNDLE
NOW W/$249 VOUCHER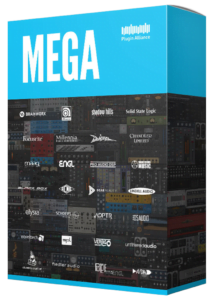 The MEGA Bundle was already the best subscription plugin bundle around, but now it's even better since you end up getting all your money back (or most of it if on the monthly plan) in the form of a $249 voucher that you can use to purchase any plugin(s) you want and own them forever.
You can even use it during sales and really stock-up!
You can still subscribe and un-subscribe when you want, even after you get your voucher.
The MEGA Bundle currently includes 112 plugins, and it's the absolute best subscription plan currently available.
We've talked A LOT about the MEGA Bundle because we truly believe it is currently the BEST subscription plan for plugins.
Check out more videos about the MEGA Bundle:
Plugin Alliance MEGA Bundle – Subscription Process & Is it Worth the Money
Plugin Alliance MEGA Bundle Subscription – What it Really Costs (Full breakdown)
Plugin Alliance MEGA BUNDLE – EVERY. SINGLE. PLUGIN.
If you want to get on board with the YEARLY or MONTHLY MEGA Bundle, head over to Plugin Alliance.
Affiliate Disclosure: This site is an Amazon affiliate that earns money when people use our links. You get a great deal and we can keep providing content for free.
About Post Author