JBL 305P MKII
POWERED STUDIO MONITORS
Everybody who works with audio needs a pair of studio monitors, computer speakers are not enough.
Studio Monitors are meant to reveal how your mix really sounds. They usually have a flat response vs. consumer speakers that have a pleasing frequency profile.
Studio Monitors are called 'monitors' because you use them to monitor your audio – the term has nothing to do with your computer screen, which many people get confused by.
Although, your studio monitors and computer monitor are indeed both monitors!
You use your computer monitor (screen) to monitor what is going on in a program/internet/video/etc.., and you use your studio monitors to monitor the audio.
Studio Monitors come in all shapes, sizes, and price ranges; everything from $59 to $100,00 and higher!
Today we are looking at the JBL 305P MKII 5″ Powered Studio Monitors.
This model is only $99 (per monitor), and comes in black or white.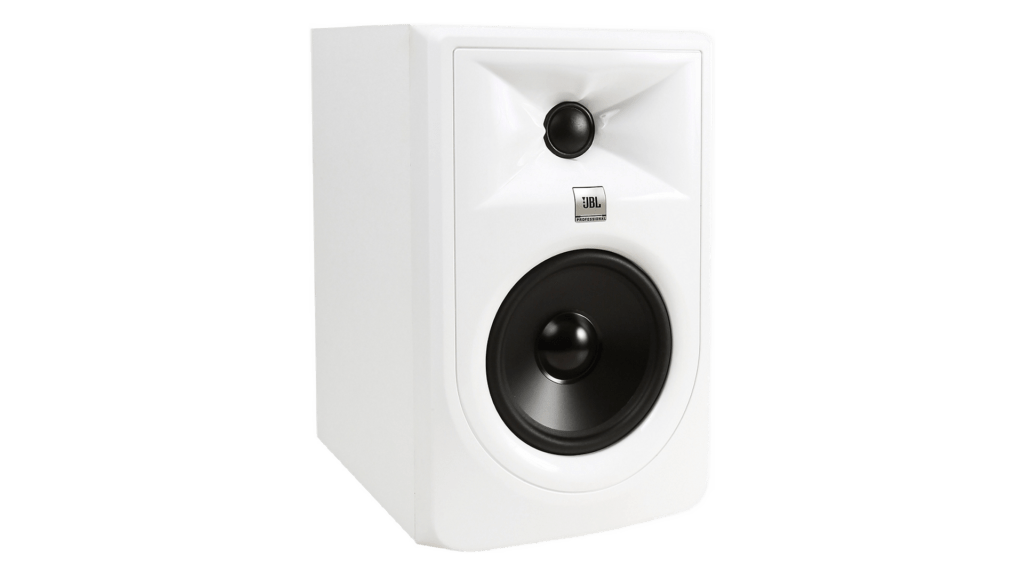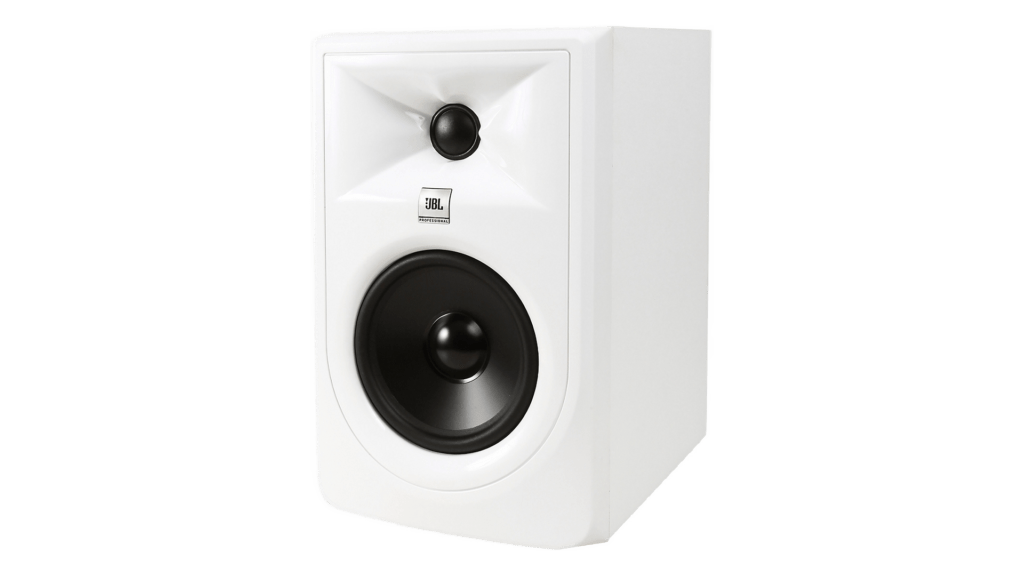 The JBL 305P MKII 5″ studio monitors are on the smaller size, but still pack a punch.
With smaller monitors the low-end isn't as "wall-shaking", and this is just physics.
But, the JBL 305P MKII have a very nice, tight, and punchy low-end that is not always present on monitors of this size or smaller.
No, they won't have the same bass response as big 8″ monitors, but the bass response is reasonable and accurate enough to work worth while mixing.
The top-end is clear, clean, and detailed.
The phantom center image is solid and clear.
For those who don't know, the phantom center image is most easily heard when you play a drum track. You should hear the kick and snare "down the middle" while the cymbals and toms are positioned in space, and you can hear their positions even though all of the audio is coming out of speakers on the left and right.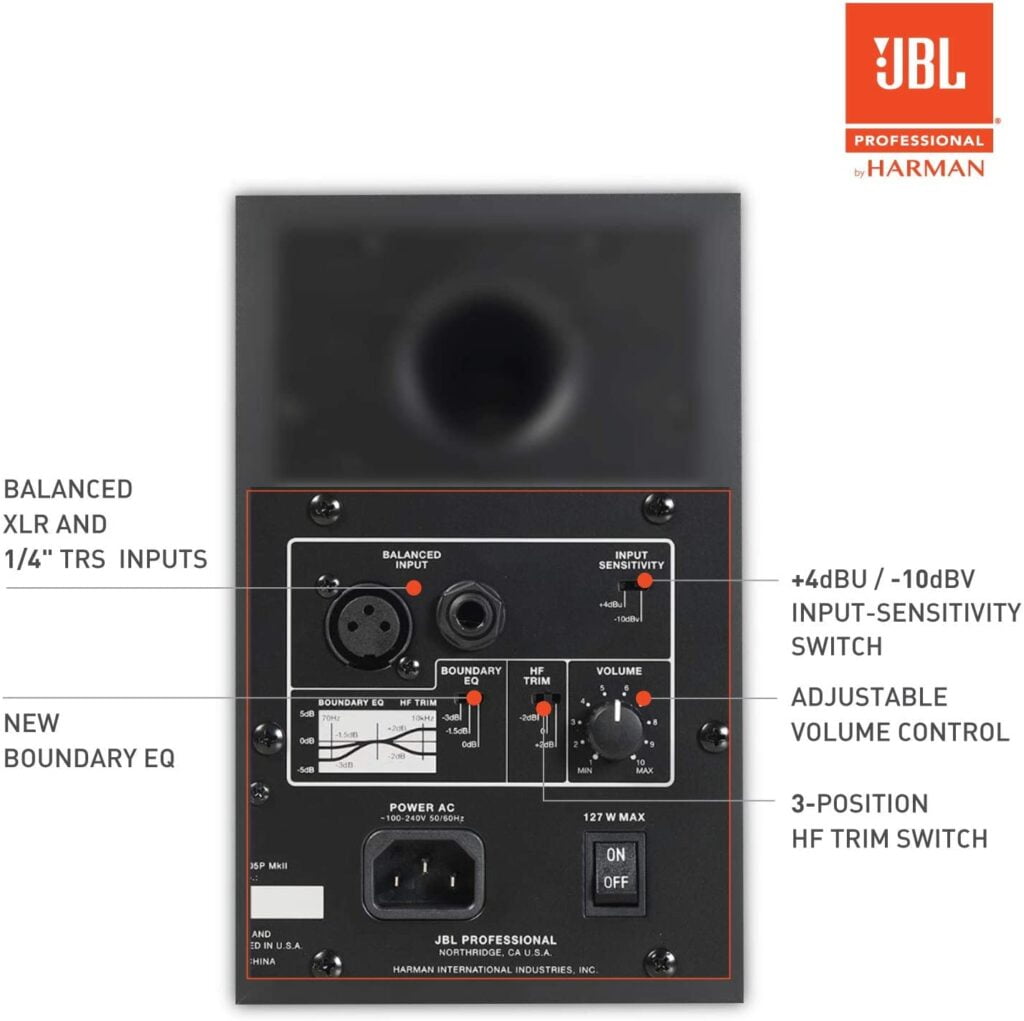 The 305P MKII have balanced XLR and TRS inputs.
Boundary EQ to compensate for room placement (near a wall, corner, etc…)
High Frequency Trim to compensate for your room or preferences.
Volume knob to balance the output of each speaker. If you are using these in a stereo setup (not surround) you will probably just crank the volume to 10 since you will be controlling the overall output with your audio interface.
Switchable Input Sensitivity +4dBu for professional audio equipment, or -10 for consumer gear.
If you are using these with an audio interface, you'll probably want to choose +4dBu.
Each monitor will be plugged into a power outlet.
The included power cable is about 55 inches long.
They have 82 watts of power, 41 W HF driver, and 41 W LF driver (bi-amped)
Frequency Response is 43Hz – 24kHz (which is broad for monitors of this size)
Each monitor weighs about 11 lbs.
Check out the video for a full demo.
VIDEO
Bottom line – the JBL 305P MKII 5″ studio monitors are a solid choice for the budget minded producer.
Anyone should be able to mix with only these monitors, once they get to know them.
They also integrate well into a studio with larger monitors when you want to check your mix on smaller speakers.
They are worth considering when you're in the market for new monitors.
NOTE: If you want the white version, you'll have to look at Guitar Center, Musicians Friend, or Woodwind Brasswind. Black is available everywhere else.
Affiliate Disclosure: This site is an Amazon affiliate that earns money when people use our links. You get a great deal and we can keep providing content for free.
About Post Author