iZOTOPE VINYL
FREE VINYL RECORD PLUGIN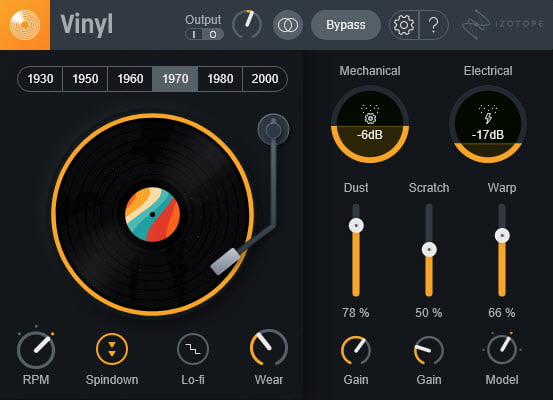 iZOTOPE VINLY is the perfect lo-fi plugin to get that authentic sound of vinyl records right in your DAW.
And, it's 100% FREE.
Vinyl has been around for about 20 years and has been a standard in every producers plugin toolkit.
iZOTOPE has updated VINYL for 2021 and the new skin looks awesome.
It's loaded with features too:
Achieve the sound of vinyl records from 1930, thru 2000.
Switch up the RPMs: 33, 45, 78
Add in authentic vinyl goodness with the Dust, Scratch, and Warp controls.
AND – perform record spindowns (tape stop effect) all inside this free plugin.
Use VINYL on individual instruments, full mixes, vocals, and even dialogue tracks.
This is a free plugin worth picking up.
Checkout the video to see and hear it in action.
VIDEO
Get iZOTOPE VINYL for free here
Affiliate Disclosure: This site is an Amazon affiliate that earns money when people use our links. You get a great deal and we can keep providing content for free.
About Post Author