FOCUSRITE SCARLETT 18i8 GEN 3
FULL REVIEW & DEMO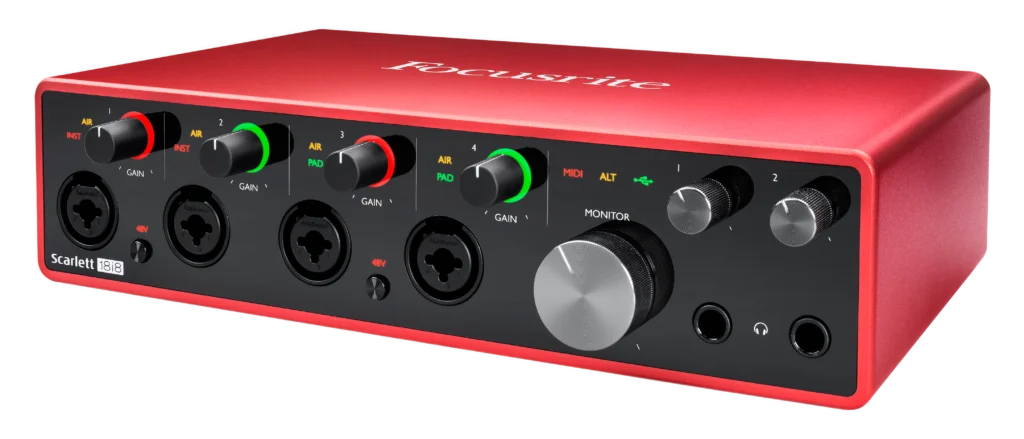 The Focusrite Scarlett 18i8 Gen 3 is a MONSTER audio interface!
Combined with the included Focusrite Control, you can route audio where ever you want, and setup custom mixes for each output.
You could have a DAW mix in the control room, a Direct Monitor mix for a vocalist using Headphone output 1, and a different mix for Headphone output 2.
The 18i8 has 4 great mic pre-amps with 56dB of gain.
Inputs 1&2 can be Mic, Line, or Instrument level, Inputs 3&4 can be Mic or Line level.
There are 4 Line inputs on the rear.
4 Line outputs – and this is where you would connect your studio monitors or route audio to external processors. You could connect two sets of studio monitors and output sound to both pairs at the same time, or use the Speaker Switching function (ALT) to switch between two pairs of speakers.
You also have:
MIDI Input/Output
Optical Input for ADAT
S/PDIF
and Loopback.
Loopback is an essential feature for 2021 and beyond!
With Loopback you can easily route computer audio into your DAW, such as audio from a video playing in your browser, or use Loopback to live-stream with your DAW.
That means you can easily live stream to YouTube, Facebook, Zoom, etc… Or even record a DAW or plugin review video.
In the video below you will see how to use OBS or Streamlabs (both free programs) to capture your screen and DAW ASIO audio.
OBS is actually what we use to create our plugin review videos, and Loopback makes it simple to capture the audio from the DAW/plugin.
Focusrite Control is what you will use to route your audio.
You can keep it simple, or setup Custom Mixes for each output.
All of this will be covered in the video below, but suffice to say, it's an incredibly flexible way to work.
The 18i8 is packed with other features as well like AIR, which simulates the classic Focusrite ISA mic pre-amps.
AIR adds clarity and detail to your input source. It works amazingly well with dynamic microphones like the Shure SM7B, condenser mics, and even other sources, like guitar.
Checkout the video below to learn everything about this awesome audio interface.
VIDEO
The Focusrite Scarlett 18i8 could well be the BEST desktop style audio interface under $500.
It's worth considering when shopping for a new audio interface.
Check it out on the Focusrite website.
Get one on eBay
Get one on Amazon
Affiliate Disclosure: This site is an Amazon affiliate that earns money when people use our links. You get a great deal and we can keep providing content for free.
About Post Author